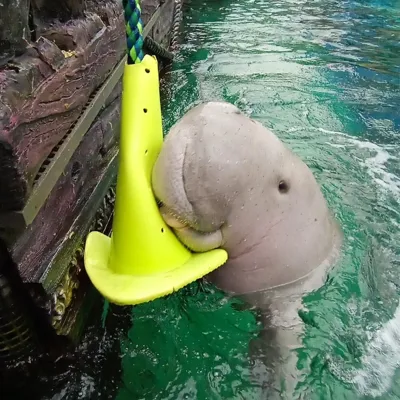 Meet Pig
Affectionately named after his eating habits, Pig was rescued from Forrest Beach in North Queensland when he became separated from his mother at a very early age. After a period of rehabilitation, Pig was released into the wild. However when he was found washed up again a decision was made not to release him again for fears he wouldn't survive.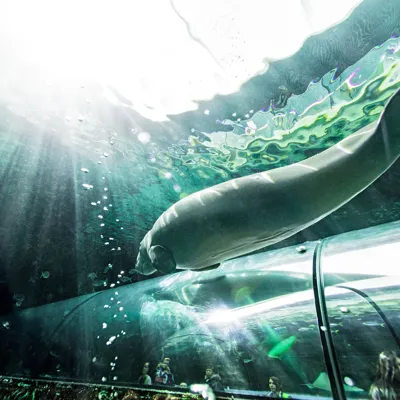 Did you know?
This big, gentle mammalian herbivore may not at first glance look much like the mermaids you might have read about in myths and legends. It's thought that the legend of dugongs belonging to the Sirenia (the Greek word for mermaid) originated from delirious sailors who mistook the animals for seductive fishy-tailed females after too long out on the ocean. The common name, dugong, comes from a Malay word meaning 'lady of the sea'. In fact, dugongs are most closely related not to any other sea creature, but to elephants.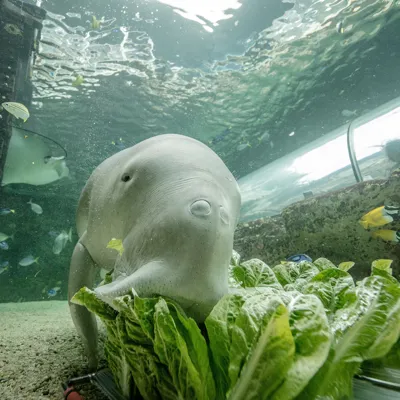 Big Appetitie
Pig is a BIG eater and feeds almost constantly from 7:30am to 7:00pm every day. In the wild, dugongs eat massive amounts of seagrass, and the closest match to that at SEA LIFE Sydney Aquarium is cos lettuce. Pig adores cos lettuce and eats about 30kg every day. The cos is washed and threaded into specially weighted racks, which sit on the bottom of the dugong display in Dugong Island, enabling Pig to graze as he would in the wild.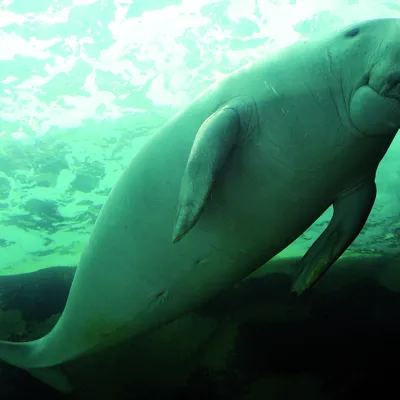 What a beautiful home!
Dugongs are found in warm coastal and inland waters of the Western Indo-Pacific region. This reaches from East Africa to Australia, including the Indian Ocean and Pacific Ocean. 
Did you know Australia has one of the largest populations of dugongs in the world?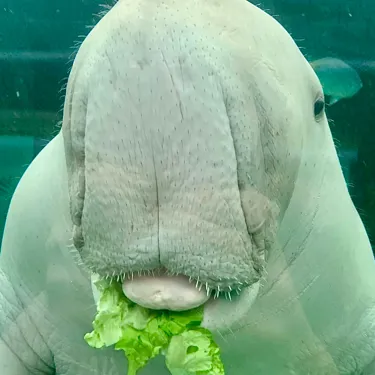 What does Pig eat?
Pig eats a mix of Cos Lettuce and bean sprouts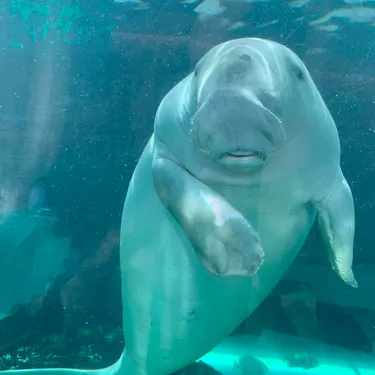 How much does he weigh?
Pig weighs around 300kg!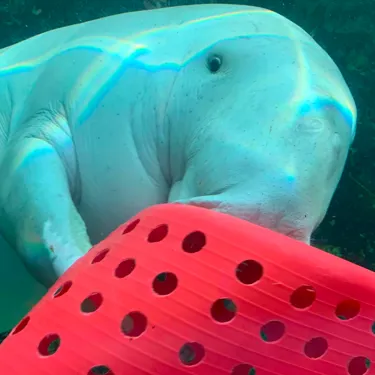 Enrichment
Pig has a range of different enrichment toys that he loves to play with. Enrichment is important because it helps exercise his mind and body through play and exploration.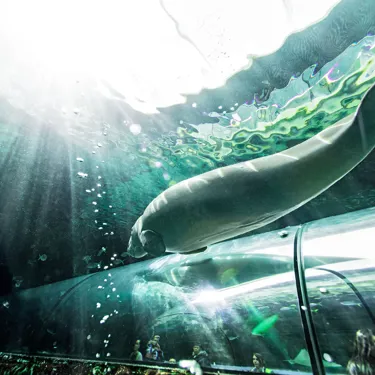 Conservation Status
Dugongs are listed as a vulnerable species by the IUCN
Pig and Wuru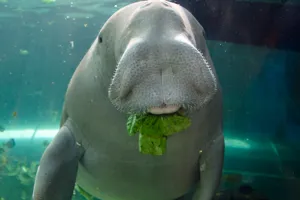 In memory of Wuru
We're heartbroken to announce our beloved rescued dugong Wuru has sadly passed. Following round-the-clock care and support from marine mammal experts and veterinarians, she passed away surrounded by those who loved her dearly. Wuru, with her gentle nature, touched the hearts and minds of not only the team, but also the broader community so we wanted to share this news with you.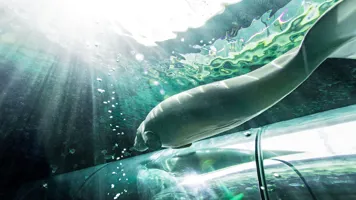 Their Story
Both Pig & Wuru were orphaned in the wild in Queensland and were raised from calves to youngsters at Sea World on the Gold Coast. Calling SEA LIFE Sydney Aquarium home since late 2008, like all dugongs, Pig and Wuru have needed a lot of looking after. Dugongs are social, friendly animals who not only need to be fed a lot but also enjoy playing games and having their backs scratched. Wuru sadly passed away recently following round-the-clock care and support from marine mammal experts and veterinarians – her gentle nature will be sadly missed.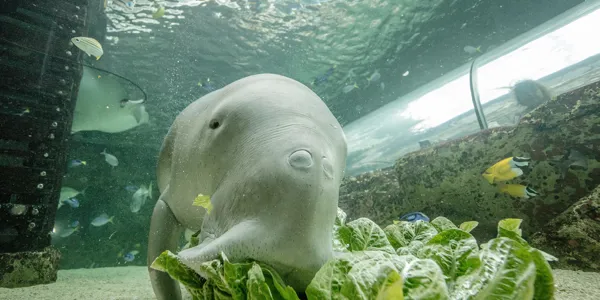 General Admission
Price includes Digi Photo Pass with 8 digital photos included – valued at $26!
Get your ticket on your phone

| | | | |
| --- | --- | --- | --- |
| Ticket Type | Price on the day/School Holidays/Weekends | SAVE 20% - Pre-book online in advance on weekdays | High-demand pricing |
| Adult | From $51 | From $40.80 | $53 |
| Child (3-15 yrs) | From $38 | From $30.40 | $40 |
| Student or Senior* | From $41 | From $32.80 | $43 |
| Child (0-2 yrs) | FREE | FREE | FREE |

 

*All concession holders must have a valid concession/student/health care card to gain access to the attraction with a Student/Senior ticket.

Please note: Our ticket pricing is subject to available capacity and prices may fluctuate during periods of high demand.

Guarantee entry by booking online
Online From
$40.80
Per Adult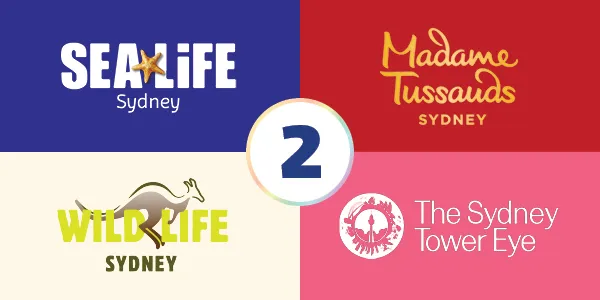 2 Attraction Pass
Choose from: WILD LIFE Sydney Zoo, Madame Tussauds Sydney or Sydney Tower Eye
Visit your second attraction within 30 days after you have visited SEA LIFE
Price includes Digi Photo Pass with 8 digital photos included
Online From
$65
Per Adult
When Bought Separately
$99
Per Adult