Meet our Penguin Posse!
Here at SEA LIFE Sydney Aquarium we have 2 species of Sub-Antarctic penguins: Kings and Gentoo penguins. 
Book Now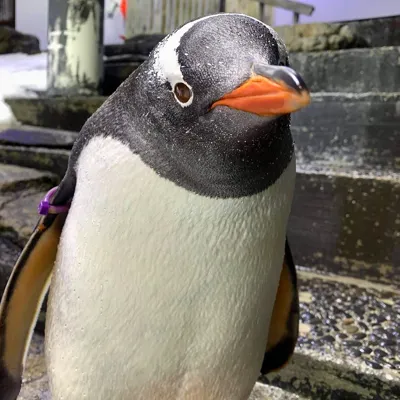 Meet Sphengic
Lara aka Sphengic is the youngest member of the colony and is an incredibly curious penguin. You'll find her wandering around the exhibit inspecting every nook and cranny, or getting under the keepers' feet as they go about daily maintenance of the exhibit. Lara loves to play games and her favourite enrichment is bubbles, which she likes to pop with her beak!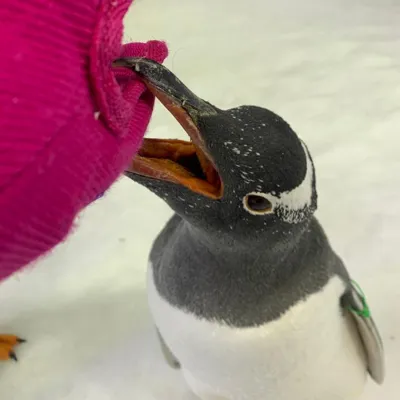 Meet Reta
A playful penguin, Reta is the first in line whenever enrichment is brought out! His favourite toy is a bright pink octopus, which he likes to carry around the exhibit. Reta is also an avid swimmer and pro pool feeder who loves to eat squid. You'll sometimes see him doing 'zoomies' – swimming in circles around the pool as fast as he can!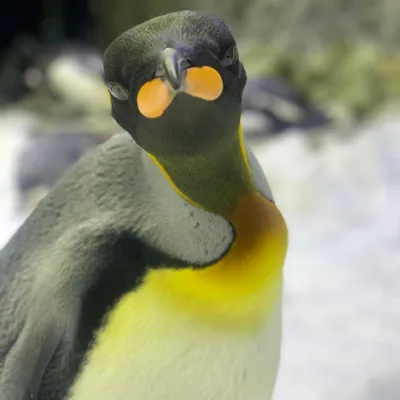 Meet Nog
Nog is an energetic and cheeky character who likes to look after the younger chicks and is respected and loved by his peers. He's also easy to spot with his big eyes and funny walk as he waddles with his head down, as if he is heading to important matters of state. We're hoping that his agreeable nature will see him attract a queen and we can welcome a royal chick into our breeding program in the next few years.
Meet Steven
Steven is a typical Gentoo, super cheeky, very inquisitive and always under the feet of our keepers! He loves enrichment games and 'helping' the keepers with their buckets or chores. Gentoo's don't reach maturity until 3 years old so he still has a few years left of this playful, child-like period. His favourite enrichment game is smashing jelly cakes!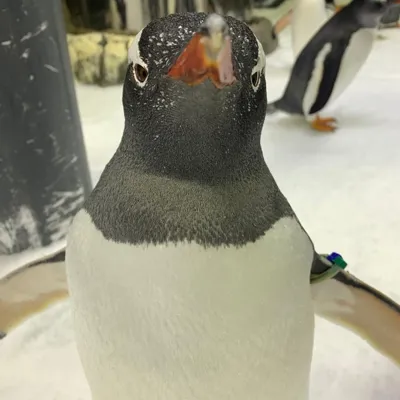 Meet Tasman
Tasman is a real softy who mostly keeps to himself. A wonderful singer, Tasman will sing his heart out both to his other penguin friends and to his keepers. Tasman is currently enjoying the bachelor life, but he hopes to someday settle down and have a chick of his own.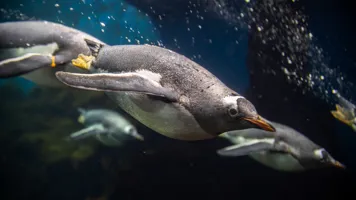 Meet Sphen and Magic
Same-sex couple, Sphen and Magic began developing a strong bond and became inseparable before breeding season, and are constantly seen waddling around and going for swims together. The couple were given a foster egg to look after... and it hatched! Baby 'Sphengic' was born and they are now a happy penguin family of three!
N-ice Penguin Facts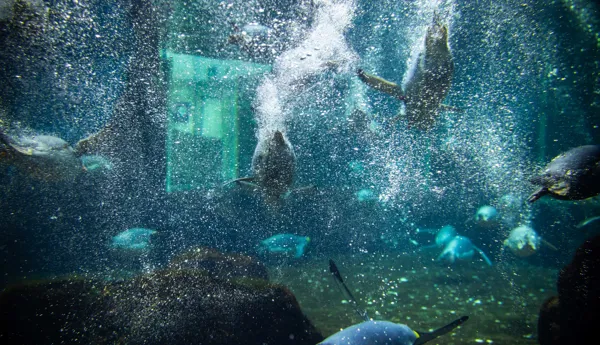 Sea soaring
Penguins are the only flightless birds. Despite not being able to take flight in the sky, penguins use their flippers to fly through the water
Penguins in danger
Over half of all penguin species are listed as endangered. Penguin populations are threatened by oil spills, bycatch, overfishing, habitat loss and climate change.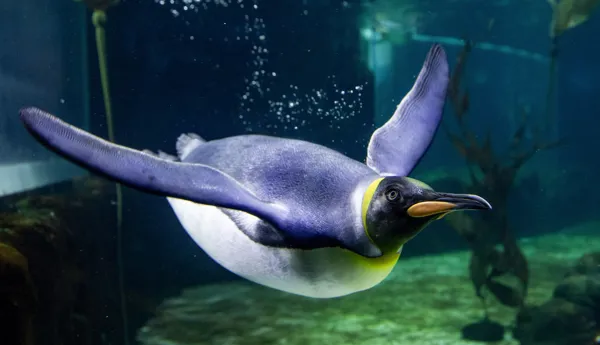 The tall and small
Emperor Penguins are the largest species of penguin growing up to around 120cm tall while the small species is the Little Penguin, growing to only 30cm tall.