Discover some of our species
Dive in to the world of venom but don't get too close! Discover some of the venomous fish species we have here at SEA LIFE Sydney Aquarium
Book Now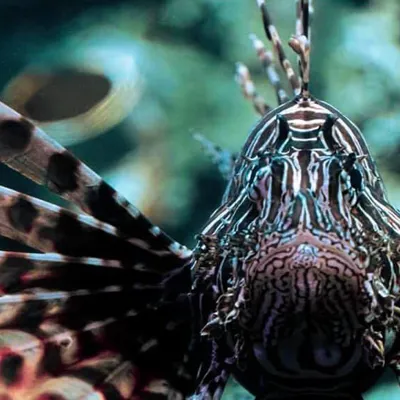 Lionfish
Well known for its long venomous spines that resemble the mane of a lion, the Lionfish is one of the most common aquarium fish. Typically found along the seaward edge of reefs, lagoons and rocky surfaces to 50 metres deep, the red and white striped lionfish prey on small fish and invertebrates. Don't be fooled by the ornate beauty of the lionfish as they are the second most venomous fish in the world after the Estuarine stonefish!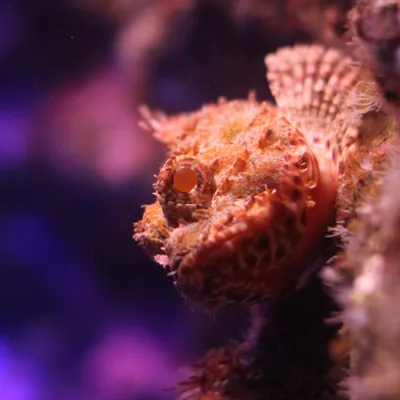 Red Rock Cod
The Red Rock cod, also commonly known as the Scorpionfish can be found trawling the shallow and temperate coastal waters of eastern Australia. Despite its name, this species varies in colour from reddish brown to hues of dark brown and black. Similar to scorpions, the Red Rock cod is venomous and often catches its prey by surprise as its appearance can resemble the rocky sea floor.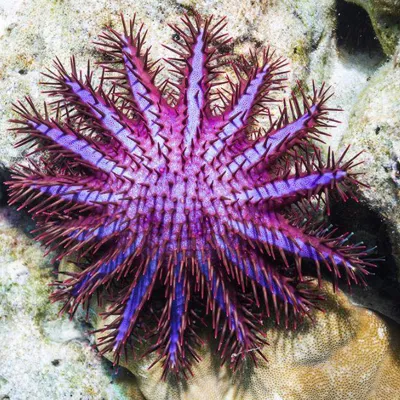 Crown of Thorns Starfish
Known as the Crown-of-Thorns, this seastar receives its name from its venomous spines and its resemblance to the biblical Crown of Thorns. Most commonly found in the tropical and subtropical waters of Australia, a full grown adult can reach widths of 35 centimetres. The spines of the Crown of Thorns acts as a defence mechanism, piercing through the soft surfaces of large predators including species of pufferfish, triggerfish and molluscs.
Poison vs Venom
Did you know that poison and venom aren't the same thing? The main difference is the way they are delivered to the victim. Poison is ingested where as venom is injected. Watch the video below to discover more
Frequently Asked Questions of Venomous Fish Species
The most venomous known fish is the reef stonefish. It has a remarkable ability to camouflage itself amongst rocks. It is an ambush predator that sits on the bottom waiting for prey to approach. Instead of swimming away if disturbed, it erects 13 venomous spines along its back.
Stonefish (Synanceia): The stonefish is considered the most venomous fish in the world. It is found in the coastal regions of the Indo-Pacific and is known for its venomous spines on its back. Its sting can cause intense pain, tissue damage, and even death if not treated promptly.

Lionfish (Pterois): Lionfish are venomous fish native to the Indo-Pacific region, but they have become invasive in other parts of the world, such as the Caribbean Sea. Their venomous spines can cause severe pain, nausea, and respiratory distress.

Pufferfish (Tetraodontidae): Pufferfish, also known as blowfish or fugu, contain a potent neurotoxin called tetrodotoxin in their organs, especially the liver and ovaries. Ingesting this toxin can be deadly, and it has led to fatalities in cases of improper preparation of pufferfish in certain culinary dishes.

Scorpionfish (Scorpaenidae): Scorpionfish are venomous fish found in tropical and subtropical waters. They have venomous spines on their dorsal fins that can cause severe pain, swelling, and tissue damage.

Stonefish (Dactylopterus): This species of stonefish is found in the eastern Atlantic Ocean and the Mediterranean Sea. It has venomous spines on its dorsal fin and is capable of delivering a painful sting.

Catfish (Plotosidae): Certain species of catfish, such as the pimelodid catfish (Pimelodus pictus), have venomous spines on their pectoral and dorsal fins. The venom can cause intense pain and inflammation.

Toadfish (Batrachoididae): Toadfish, commonly found in coastal areas, have venomous spines on their dorsal fins. The venom can cause pain and localized tissue damage.

Stargazer Fish (Uranoscopidae): Stargazer fish have venomous spines near their gills and on their dorsal fins. They bury themselves in the sand and can deliver electric shocks as well.

Scat Fish (Scatophagidae): Some species of scat fish have venomous spines that can cause painful stings and localized swelling.

Bullrout (Notesthes robusta): Bullrouts are venomous fish found in Australia. They possess venomous spines on their dorsal fins, and their sting can be extremely painful and cause tissue damage.
There are several fish species that are considered inedible or unsafe to eat due to various reasons, including their toxicity, potential health risks, or conservation concerns. Here are a few examples:
Pufferfish (Fugu): Pufferfish contain tetrodotoxin, a potent neurotoxin that can be deadly if not properly prepared. Only specially trained and licensed chefs are allowed to prepare and serve pufferfish dishes in some countries, such as Japan.

Stonefish: Stonefish are extremely venomous, and their venom can cause severe pain, tissue damage, and even death. Eating stonefish is highly discouraged due to the risks associated with their venomous spines.

Blowfish: Some species of blowfish (not to be confused with pufferfish) may contain toxins in their internal organs. They are generally not consumed for food due to the difficulty of proper toxin removal during preparation.

Certain species of tropical reef fish: Some reef fish, such as certain species of grouper (e.g., humphead wrasse, giant grouper), may contain high levels of ciguatoxin. Ciguatera poisoning, caused by consuming fish contaminated with ciguatoxin, can lead to gastrointestinal and neurological symptoms.

Shark: Certain shark species, particularly those higher up the food chain, may contain high levels of mercury and other toxins due to bioaccumulation. It is advisable to be cautious when consuming shark meat and to check for advisories regarding specific species.

Atlantic Bluefin Tuna (over a certain size): Large Atlantic Bluefin Tuna are known to accumulate high levels of mercury. Pregnant women and young children, in particular, are advised to limit their consumption of this species.

Endangered or threatened species: There are several fish species that are protected due to their conservation status. It is important to respect fishing regulations and avoid consuming fish that are endangered or under threat.
There are several fish species that have the potential to cause paralysis or temporary loss of muscle function due to the toxins they produce. Here are a few examples:
Pufferfish (Fugu): The tetrodotoxin found in certain organs of pufferfish can cause paralysis and even respiratory failure if consumed in sufficient quantities. Improperly prepared pufferfish dishes have resulted in fatalities.

Ciguatera Fish: Ciguatera poisoning can occur from consuming reef fish that have accumulated ciguatoxins, such as barracuda, grouper, snapper, and moray eel. Ciguatoxins can cause a range of symptoms, including muscle weakness, paralysis, and neurological issues.

Certain Venomous Fish: Various venomous fish, like stonefish, scorpionfish, and lionfish, have venomous spines or spiky appendages that can cause paralysis or loss of muscle function in the affected area. However, the paralysis is typically localized to the specific area where the injury occurs.

Blue-ringed Octopus: Although not a fish, the blue-ringed octopus is a highly venomous marine animal found in the Pacific and Indian Oceans. Its venom contains tetrodotoxin, which can cause muscle weakness, paralysis, and respiratory distress.
Surviving puffer fish (Fugu) poison depends on several factors, including the amount of toxin ingested, the individual's health condition, and the promptness of medical treatment. It is essential to note that consuming puffer fish can be extremely dangerous and potentially fatal if not prepared properly. The toxin found in puffer fish, known as tetrodotoxin, is a potent neurotoxin that affects the nervous system.
If someone consumes puffer fish toxin and experiences symptoms of poisoning, such as dizziness, weakness, nausea, vomiting, numbness, difficulty breathing, or paralysis, it is crucial to seek immediate medical attention. Time is of the essence, and the individual should be taken to a hospital as quickly as possible.
In a medical setting, treatment for puffer fish poisoning typically involves supportive measures to manage symptoms and minimize complications. This may include respiratory support, administration of intravenous fluids, and, in severe cases, the use of a ventilator to assist breathing. The toxin itself cannot be directly counteracted with an antidote.
If you touch a stonefish, which is widely considered the most venomous fish in the world, it can result in a painful and potentially dangerous sting. Stonefish are known for their exceptional camouflage, blending in with their surroundings such as coral reefs or sandy ocean floors, making them difficult to spot and easy to accidentally touch.
When a person comes into contact with a stonefish, the venomous spines located on its back can penetrate the skin and inject venom. The venom contains toxins that can cause severe pain and various symptoms, including:
Intense pain: The sting from a stonefish is extremely painful and is often described as excruciating. The pain can be immediate and severe, radiating from the sting site.

Swelling and redness: The affected area may swell and become red, showing signs of inflammation.

Localized tissue damage: The venom can cause tissue necrosis (death of cells) around the sting site if not treated promptly.

Systemic symptoms: In some cases, individuals may experience symptoms beyond the local area, such as nausea, vomiting, sweating, dizziness, weakness, or even difficulty breathing.
If you are stung by a stonefish, it is crucial to seek immediate medical attention. While en route to medical care, it is advisable to keep the affected area immobilized and elevated, if possible. Applying hot water (but not scalding) to the wound may help alleviate pain until medical treatment is received.
Book Tickets Now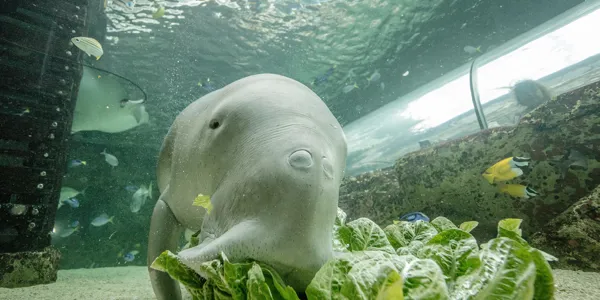 General Admission
Price includes Digi Photo Pass with 8 digital photos included – valued at $26!
Get your ticket on your phone

| | | | |
| --- | --- | --- | --- |
| Ticket Type | Price on the day/School Holidays/Weekends | SAVE 25% - Pre-book online in advance on weekdays | High-demand pricing |
| Adult | From $51 | From $38.40 | $53 |
| Child (3-15 yrs) | From $38 | From $28 | $40 |
| Student or Senior* | From $41 | From $30.40 | $43 |
| Child (0-2 yrs) | FREE | FREE | FREE |

 

*All concession holders must have a valid concession/student/health care card to gain access to the attraction with a Student/Senior ticket.

Please note: Our ticket pricing is subject to available capacity and prices may fluctuate during periods of high demand.

Children under 16 years of age must be accompanied by an adult (18+)
Guarantee entry by booking online
Online From
$38.40
Per Adult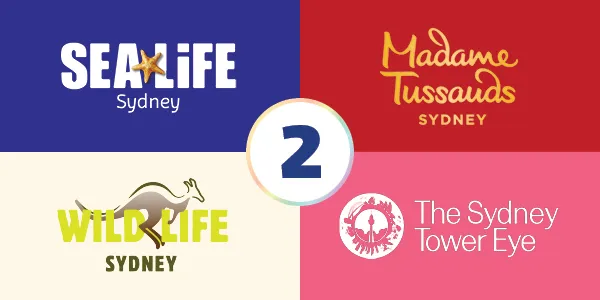 2 Attraction Pass
Choose from: WILD LIFE Sydney Zoo, Madame Tussauds Sydney or Sydney Tower Eye
Visit your second attraction within 30 days after you have visited SEA LIFE
Price includes Digi Photo Pass with 8 digital photos included
Online From
$65
Per Adult
When Bought Separately
$99
Per Adult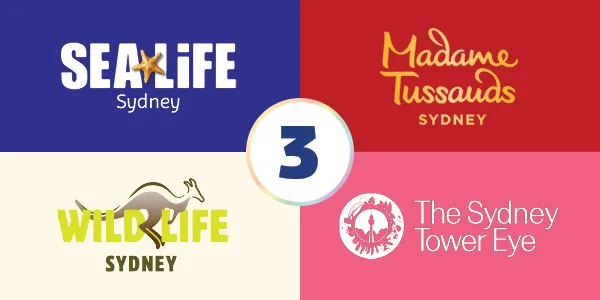 3 Attraction Pass
Choose from: WILD LIFE Sydney Zoo, Madame Tussauds Sydney or Sydney Tower Eye
Visit your other attractions within 60 days after you have visited SEA LIFE
Price includes Digi Photo Pass with 8 digital photos included
Online From
$75
Per Adult
When Bought Separately
$147
Per Adult