Book online & save
Flexible Rescheduling
We are now cashless
Book online & save
Flexible Rescheduling
We are now cashless
They cover less than 1% of the ocean floor, yet over 25% (that's 1 quarter) of marine species depend on this habitat in some way for survival.
The Coral itself might look like rock or plant but it is actually a type of animal! From the same family as Jellyfish and Sea Anemones, Corals are made up of millions of individual polyps all growing on top of each other. Each of these polyps lives within a shell but sticks out little stinging tentacles to catch plankton in the current. Coral polyps share their shell with algae which provides them with most of their food using photosynthesis. In exchange the Coral offers the algae a safe house so they both get a good deal!
When Corals are stressed by pollution, temperature or acidity changes, they spit out the algae from their shells. This is known as Coral bleaching as it is the algae which gives them colour and without it they turn white. Coral cannot survive for long without this algae.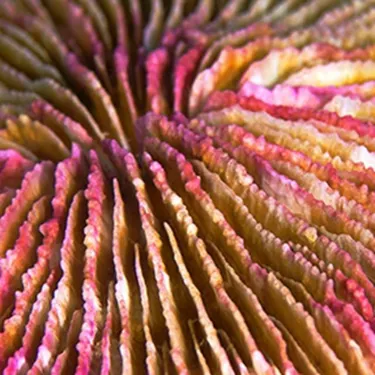 Coral reefs provide such a large fraction of Earth's biodiversity that they have been called 'the rain forests of the sea'!
Clownfish
Did you know that Clownfish live in the venomous tentacles of Sea Anemones?
They are one of the only ocean creatures that can do this as they are protected by a layer of slimy mucus on their skin! Clownfish like to live in Sea Anemones so that they are protected from predators and can nibble on leftover food the Sea Anemone catches.
In return, they help keep Sea Anemones and the area around them clean by eating up algae and other reef debris. 
If you see a clownfish couple in a Sea Anemone, the larger of the two will be the female, and the smaller the male.
They are called clownfish because of their bright clown colouring and all clownfish are born as boys. Once the females die, the largest male will change sex.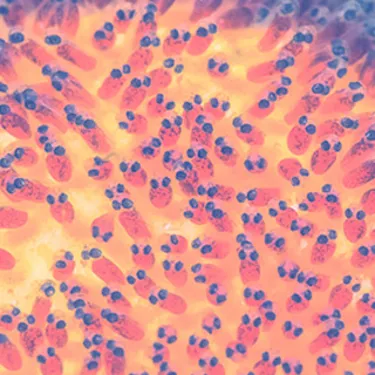 Male Clownfish
Male Clownfish are very devoted parents. They look after the eggs, fanning them to keep them oxygenated. They will chase away fish much bigger than them and even square up to inquisitive scuba divers!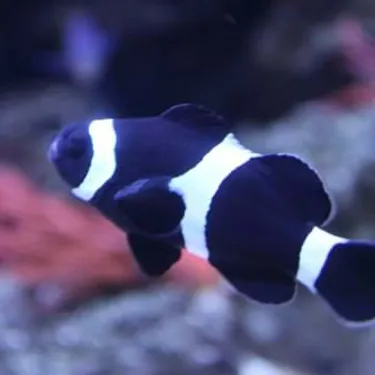 Clownfish Colour
Not all Clownfish species are orange in colour. Some are red, brown or even black!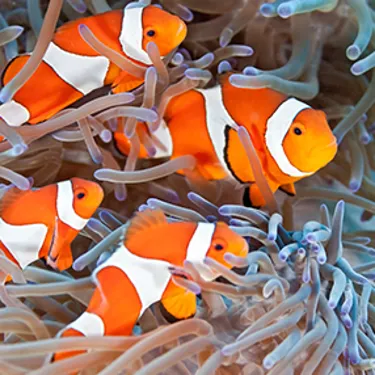 Gender
All Clownfish are born boys! Some will eventually turn into girls when they are older. If you see two Clownfish on a Sea Anemone, the larger of the two will be the female, the smaller the male.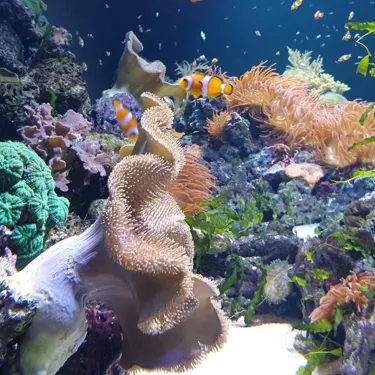 Food
They are omnivores, meaning they eat both plants and animals. Their diet consists mainly of algae, zooplankton (tiny animals that live in water) and small crustaceans.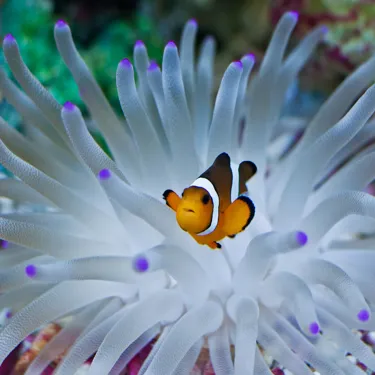 Home
Clownfish make themselves immune to the stings of their home anemone!
More Amazing Coral Reef Inhabitants
Coral Reefs are packed with creatures, all living together in a small space so things get very competitive! Reef inhabitants have to have some nifty tricks up their sleeve to ensure that they catch enough food and evade their predators. Check out some of these incredible creatures who you'll find in Dive Discovery or Nemo's Kingdom during your visit!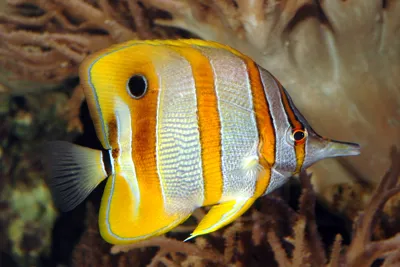 Copperband Butterflyfish
The black spot on a Copperband Butterflyfish is a fake eye. It tricks predators into attacking it's fin instead of it's head so it has more chance of escaping!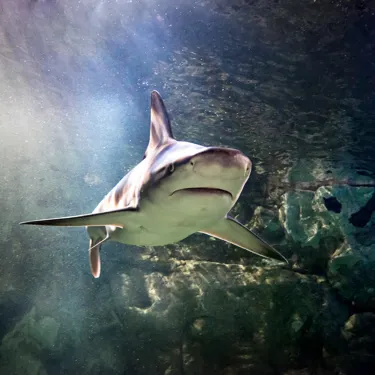 Black Tip Reef Shark
These little Sharks prowl Reefs. They have been known to feed on venomous Sea Snakes!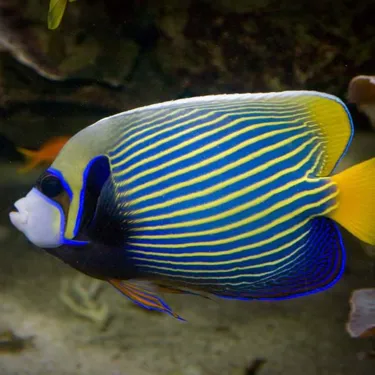 Emperor Angelfish
The black stripe over an Emperor Angelfish's eyes helps to disguise them. Predators often look for eyes to help them identify prey.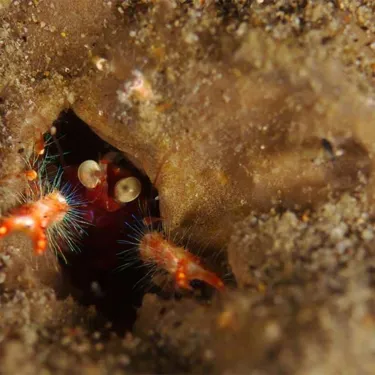 Spiny Lobster
Spiny Lobsters don't have the large front pincers that True Lobsters have. They have been known to form enormous travelling queues of Lobsters when covering long distances, like conga lines!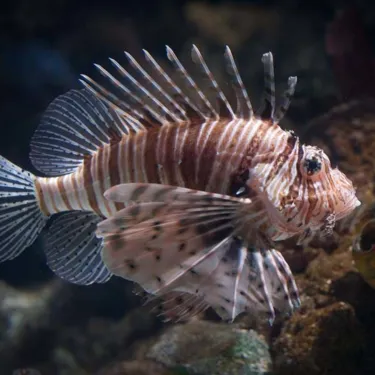 Lionfish
Lionfish are covered in venomous spines and therefore have few predators! They are one of the most venomous fish in the sea!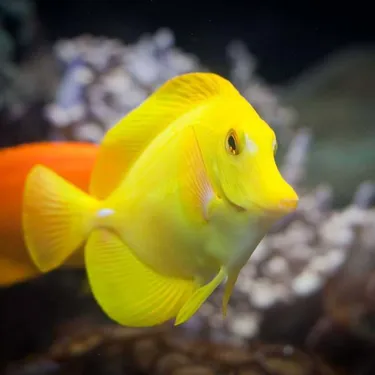 Yellow Tang
Tang Fish are also known as Surgeonfish because of the scalpel-like spines on either side of their body at the base of their tail. They use these in self defense. You'll see many different colourful species of Tang in Nemo's Kingdom including the Yellow Tang!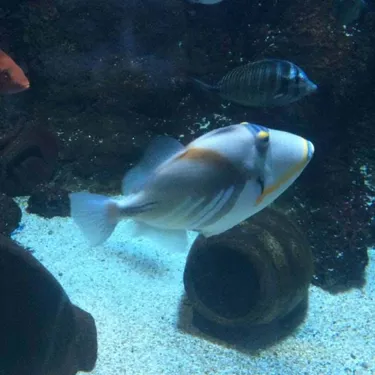 Triggerfish
When chased by a predator Triggerfish will hide in a rock crevice and flick out a special spine on their back in order to lock themselves into position. This is how they got their name!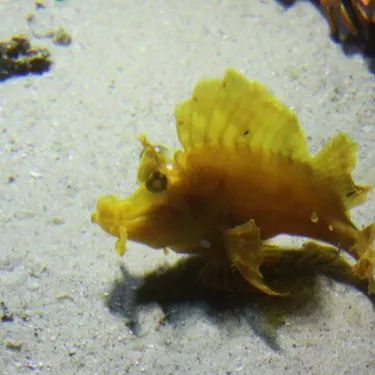 Leaf Scorpionfish
You'll have to look carefully to spot this guy! Leafy Scorpionfish are ambush predators who blend in with their surroundings and pounce on unsuspecting fish and crustaceans.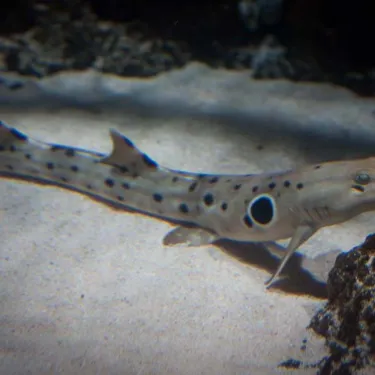 Epaulette Shark
These little sharks are able to survive out of the water for up to an hour as they often walk over the reef to get to rockpools to find prey!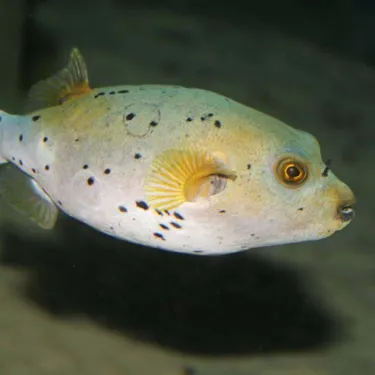 Pufferfish
These fish can famously suck water in to massively inflate the size of their body to scare off predators. It isn't very good for them as it squashes their internal organs so you should never try to scare a Pufferfish if you see one in the wild.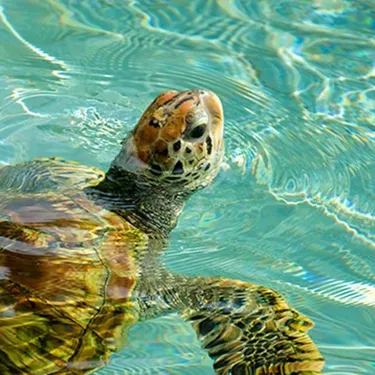 Sea Turtle
Sea Turtles are often seen cruising around Coral Reefs. At night they find a place to wedge themselves in the Reef to sleep so they don't get swept off in the tide!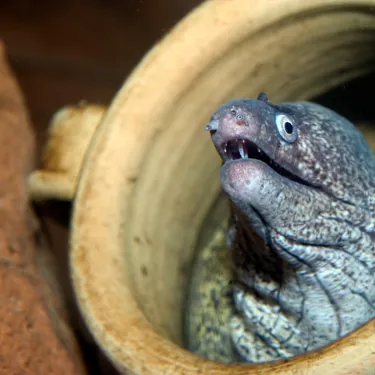 Moray Eel
You'll spot these guys in our Breed Rescue Protect area. Moray Eels have a second set of jaws down their throat to help pull their food down their long body!