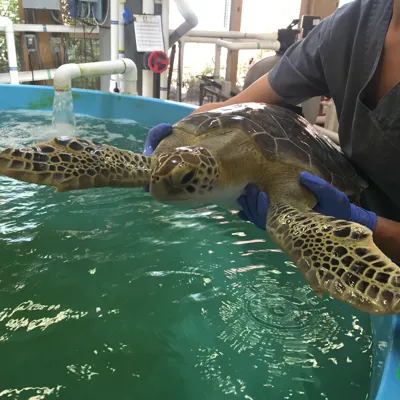 Providing a forever home for Benson & Carr
SEA LIFE works with turtle rescue centers around the world to provide forever homes for injured and rescued sea turtles.
Here in Michigan, our Ocean Habitat is home to two rescued juvenile green sea turtles named 'Benson' and 'Carr'. Benson was rescued & rehabilitated by the Georgia Sea Turtle Center and Carr was rescued & rehabilitated by Gumbo Limbo Nature Center in Boca Raton, FL.

Benson, pictured left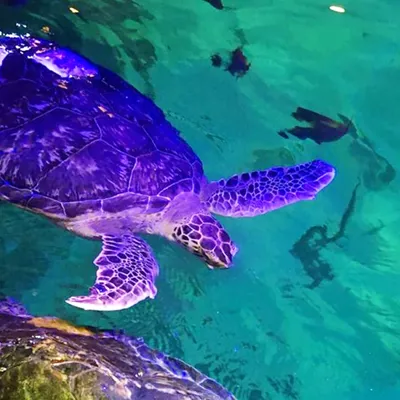 What happened?
Benson & Carr were the unfortunate victims of boat strikes, leaving them with serious shell and spinal damage that causes permanent buoyancy issues for them.

They both have temporary weight patches adhered to the back of their shells to help correct their buoyancy, but the patches are neither permanent, nor perfect, and need to be changed as they grow. Without the patches, they wouldn't be able to sleep safely or forage for food.

Benson, pictured right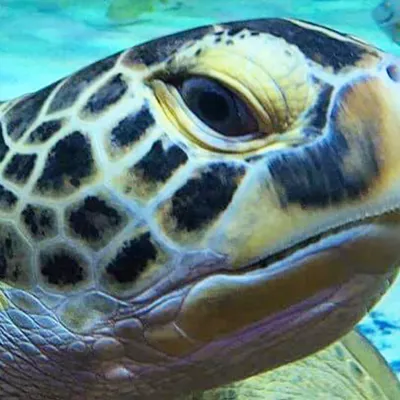 A second chance
Despite their injuries, Benson & Carr are full of personality and love getting into mischief -- that includes scratching their weight patches off for fun and eating as many veggies as they can get!
We're proud to provide a happy forever home for "the boys" (as they're lovingly referred to by our aquarists) and to share their real-life stories with our guests.

Carr, pictured left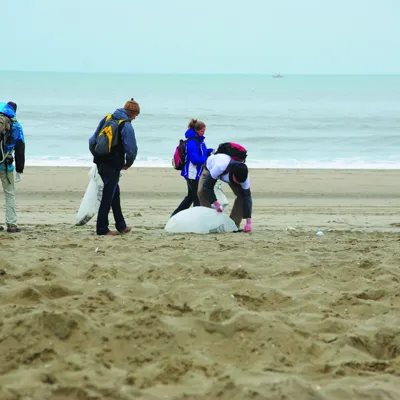 How you can help sea turtles
Pick up trash on the ground, at the beach and in the lakes
Use reusable grocery bags instead of plastic bags
Cut up pop bottle plastic rings
Reduce, reuse & recycle
Move at low speed if you're boating in the ocean
Don't buy products made of or with turtle shells
Support

 

Association of Zoos & Aquariums-accredited institutions

 like us!
Support our other conservation programs