SEA LIFE Aquarium is First in Michigan to Earn FDEP Coral Conservation Grant
Tuesday August 24th 2021
coral, coral reef, conservation, florida reef tract, FDEP, AZA, Association of Zoos & Aquariums, news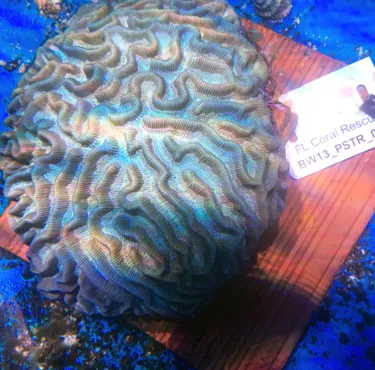 FOR IMMEDIATE RELEASE
CONTACT:
SEA LIFE Michigan Aquarium
sealifemichigan@sealifeus.com
SEA LIFE Aquarium is First in Michigan to Earn FDEP Coral Conservation Grant
Funding Will Help Michigan's Largest Aquarium Protect Florida Reef Tract Coral for Next 3 Years
Auburn Hills, August 24, 2021 — The Florida Department for Environmental Protection (FDEP) awarded SEA LIFE Michigan Aquarium a $7,500 grant to house and protect 8 species of endangered Florida Reef Tract coral for the next 3 years. This is the first grant of its kind awarded to an institution in Michigan.
The endangered coral are under threat of Stony Coral Tissue Loss Disease (SCTLD), which is rapidly spreading through and decimating the Florida Reef Tract. The Florida Reef Tract is the third largest reef tract in the world and home to thousands of marine species. It also serves as a natural buffer that protects the Florida coast from tropical storms like hurricanes.
SEA LIFE Michigan Aquarium and several other AZA-accredited institutions are taking in healthy Florida Reef Tract corals to protect them until the disease has been eradicated. The cause is still unknown and a treatment has not yet been developed.
Eventually, the specimens SEA LIFE Michigan is holding will be replanted onto the reef so they can grow, spread and rebuild coral colonies for generations to come.
"This is a very important long-term project, so we're using the grant money to buy years-worth of synthetic salt" said Lauren M., lead aquarist at SEA LIFE. "We'll be able to procure 90 boxes which will make about 18,000 gallons of saltwater. With it, we'll be able to maintain proper water chemistries for coral growth so these individuals will be ready to do their part when they return to the reefs."
SEA LIFE Michigan Aquarium has been holding rescued corals for the Florida Reef Tract conservation project since September 2019.
About SEA LIFE Michigan
SEA LIFE Michigan is a 26,000-square-foot aquarium in Auburn Hills, Mich.-based Great Lakes Crossing Outlets. As the 7th SEA LIFE location in the United States, and the 42nd in the world, SEA LIFE Michigan features engaging, educational and one-of-a-kind experiences that bring guests nose-to-nose with more than 2,000 amazing creatures, including sharks, stingrays, jellyfish, rescued green sea turtles and much, much more. SEA LIFE provides a glimpse of the diversity of marine life while also playing an active role in animal and environmental conservation. Visitors will see strong evidence of SEA LIFE's Breed, Rescue and Protect activities around the world, including new projects developed locally. For more information, visit www.visitsealife.com. 
About Merlin Entertainments
MERLIN ENTERTAINMENTS plc is the leading name in location-based, family entertainment. Europe's Number 1 and the world's second-largest visitor attraction operator, Merlin now operates 111 attractions, 12 hotels/4 holiday villages in 23 countries and across 4 continents. The company aims to deliver memorable and rewarding experiences to its almost 63 million visitors worldwide, through its iconic global and local brands, and the commitment and passion of its managers and 26,000 employees (peak season).
Merlin has twenty five attractions and two hotels in North America - including two stunning LEGOLAND Resorts – in Florida and California; The Orlando Eye; six Madame Tussauds celebrity wax attractions; nine LEGOLAND Discovery Centers; a Dungeon in San Francisco; and eight SEA LIFE Aquariums. Visit www.merlinentertainments.biz for more information.