Middle School Marine Biologist
Wednesday May 26th 2021
education, marine biologists, news, media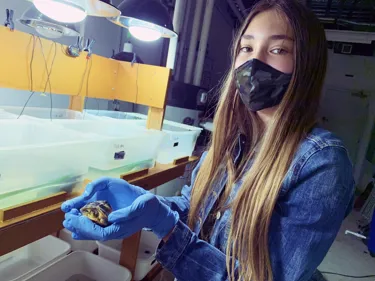 FOR IMMEDIATE RELEASE
CONTACT:
SEA LIFE Michigan Aquaruim
sealifemichigan@sealifeus.com
FIRST EVER MIDDLE SCHOOLER WINS STATEWIDE AQUARIUM COMPETITION
Endeavour Middle School 8th grader in Ray Township wins essay competition for chance to work with SEA LIFE Aquarium's marine biologists
AUBURN HILLS, May 26, 2021– Danya R., an honor roll student from Endeavour Middle School, won a statewide essay competition for 6-12th graders to work with marine biologists for a day at SEA LIFE, Michigan's largest aquarium. She is the first ever middle schooler to win this competition since it began in 2017.
"It was really hard to choose the winner because we received many exceptional essays, but Danya's love of nature and passion for protecting marine ecosystems made her stand out" said Asher Berg, curator at SEA LIFE Aquarium. "She's very eager to learn and we're excited to teach her some of the skills she could use in a future career in marine biology."
As the winner of SEA LIFE Michigan's annual "Become a Marine Biologist for a Day" competition, Danya got to go behind the scenes and learn about the life support and filtration systems necessary to sustain dozens of large exhibits, test water conditions in the laboratory, prepare food for underwater creatures, feed the aquarium's two rescued green sea turtles, and learn about public education and conservation programs.
"I have always known that I wanted to work with animals in one way or another … but, by far, becoming a marine biologist is my dream job" said Danya. "In the future, I would like to discover more about the human impact on the ocean."
About SEA LIFE Michigan
SEA LIFE Michigan is a 26,000-square-foot aquarium in Auburn Hills, Mich.-based Great Lakes Crossing Outlets. As the 7th SEA LIFE location in the United States, and the 42nd in the world, SEA LIFE Michigan features engaging, educational and one-of-a-kind experiences that bring guests nose-to-nose with more than 2,000 amazing creatures, including sharks, stingrays, jellyfish, rescued green sea turtles and much, much more. SEA LIFE provides a glimpse of the diversity of marine life while also playing an active role in animal and environmental conservation. Visitors will see strong evidence of SEA LIFE's Breed, Rescue and Protect activities around the world, including new projects developed locally. For more information, visit www.visitsealife.com. 
About Merlin Entertainments
MERLIN ENTERTAINMENTS plc is the leading name in location-based, family entertainment. Europe's Number 1 and the world's second-largest visitor attraction operator, Merlin now operates 111 attractions, 12 hotels/4 holiday villages in 23 countries and across 4 continents. The company aims to deliver memorable and rewarding experiences to its almost 63 million visitors worldwide, through its iconic global and local brands, and the commitment and passion of its managers and 26,000 employees (peak season).
Merlin has twenty five attractions and two hotels in North America - including two stunning LEGOLAND Resorts – in Florida and California; The Orlando Eye; six Madame Tussauds celebrity wax attractions; nine LEGOLAND Discovery Centers; a Dungeon in San Francisco; and eight SEA LIFE Aquariums. Visit www.merlinentertainments.biz for more information.