Sensory Inclusive Resources
SEA LIFE at Mall of America is Certified by KultureCity® as a Sensory Inclusive Venue
Book online & save time with mobile-friendly tickets
Reserve a visit date and time
Guaranteed Entry - don't miss out!
Book online & save time with mobile-friendly tickets
Reserve a visit date and time
Guaranteed Entry - don't miss out!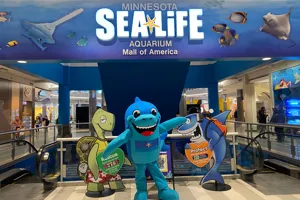 Digital Social Story
We partnered with KultureCity® to create a Digital Social Story that illustrates what to expect for sensory stimuli at the aquarium. Learn the admissions process, see where you can check out a sensory bag, and be prepared to make the most out of your visit with thousands of amazing sea creatures! 
Access the Digital Social Story any time before or during your visit. 
Digital Social Story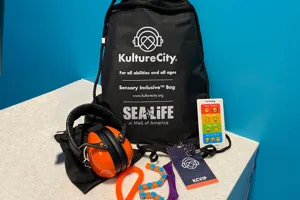 Resources and Accommodations
KultureCity® Sensory bags containing special KCVIP badge, feeling thermometer, fidget tools, and noise-canceling headphones are available for checkout at the SEA LIFE Guest Service Desk. 
SEA LIFE Staff are trained on Sensory Inclusive initiatives to better serve our visitors. 
View the Digital Social Story to see what to expect for sensory stimuli on your visit to the aquarium!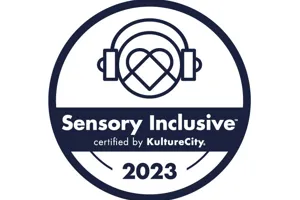 About SEA LIFE's Sensory Inclusive Certification
SEA LIFE at Mall of America has partnered with KultureCity® to enhance our ability to assist and accommodate guests with sensory needs. Our goal is to provide an inclusive experience for all guests during all events. We strive to raise awareness of the needs and challenges faced by individuals with sensory processing needs by supplying our staff with annual training and by offering the resources and accommodations below to our guests.
Sensory Inclusive FAQ
See common questions answered by KultureCity®
A sensory need or sensory processing challenge is one where an individual is affected by noises, smells, lights and even crowds differently than others. The interaction with their environment can not only be overwhelming from the sensory perspective but also sometimes physically painful. Because of this, these guests often find themselves isolated from the community.
These could be guests with PTSD, autism, early onset dementia, anxiety, or stroke patients just to name a few. 1 in 4 people in the US have a disability. With 16% having visible disabilities and the remanding 84% with invisible disabilities like the ones listed above. The common denominator for these groups are sensory issues.
Sensory friendly is when a venue has removed overwhelming stimuli for a set period of time. Access is limited to the day, a few hours, or a specific location. 
Being Sensory Inclusive creates daily accessibility with training, tools, and other modifications that do not remove the overwhelming stimuli, but instead help the guest cope with this potential sensory over stimulation or under stimulation better, ensuring an accepting and inclusive experience for all.
It helps all guests feel welcome and included in our society. It also helps us reach a huge portion of our community that has long been isolated.
Book Your Visit