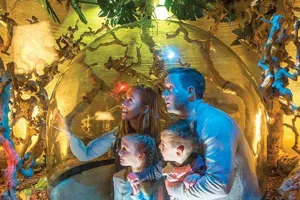 Journey Into A Giant Rainforest
Transport yourself out of Minnesota and directly into a 360-degree, two and a half story rainforest - complete with rain, fog, sounds, and smells!
Come face to fear with creepy cockroaches, hungry piranha, curious crocs and more! This two-and-half-story adventure will challenge guests to brave interactive exhibits and new animal encounters never-before-seen at the Aquarium.
WHOA - You Need to SEA This!
Trek through the rainforest passing waterfalls, tiger salamanders and hairy tarantula - if you dare!
Fit your whole family in the giant 360-degree pop-up tank as scaly green tree monitor lizards crawl above you.
Face your fears in giant pop-up experience and come nose to snout with our sister Caiman Crocodiles!