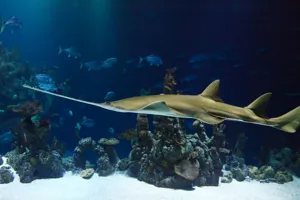 Green Sawfish
Come nose to nose with a pair of 14ft-long Green Sawfish in the world-famous 300ft long underwater tunnel. Duke and Duchess, our pair of endangered Green Sawfish are one of the only pairs of sawfish in the United States you can see in an Aquarium!
Together we hope to preserve their populations by becoming the first aquarium to breed sawfish successfully in SEA LIFE at Mall of America.
WHOA - You Need to SEA This!
Minnesota's only sawfish are right here in SEA LIFE at Mall of America
Snap an epic sawfish selfie as they often lay on top of the ocean tunnel for a breathtaking look at these majestic creatures
Come within inches of the remarkable sharp and saw-like rostrum at the snout of the Green Sawfish's body