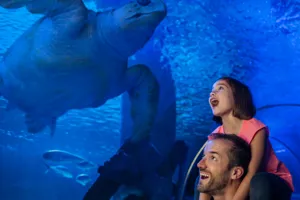 Sea Turtles
Come face to flipper with Amelio and Calypso, our rescued green Loggerhead turtles, and Seemore, the rescued green sea turtle, in our breathtaking underwater ocean tunnel exhibits.
Full of personality, these curious creatures are ready to greet you in the breathtaking underwater tunnel. Rescued for various reasons, we give them extraordinary care and an amazing forever home in SEA LIFE at Mall of America because they cannot return to the wild.
WHOA - You Need to SEA This!
Spot Seemore and discover her amazing story as featured on NBC
Calypso, our largest rescued sea turtle, is over 350lbs!
Find friendly Amelio, the Loggerhead Sea Turtle who was rescued as a hatchling from a disturbed nest on an East Coast beach and arrived so small he could fit in your hand. Now he is a healthy 350+ lbs.
While at SEA LIFE, learn amazing ways to help these creatures here in Minnesota!