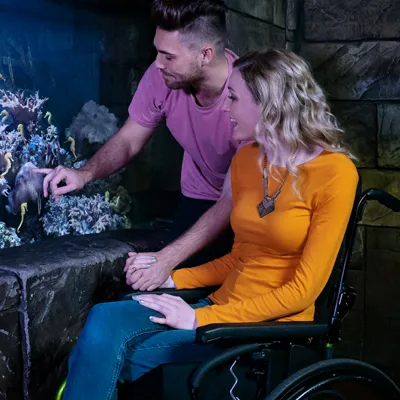 Thousands of Creatures
Journey into an inspiring underwater world with unique creatures in over a million gallons of wow.
Discover Seahorses in a mangrove, spot sea creature movie stars, hide in a Sea Dragon's kelp forest, and watch mesmerizing jellyfish in a mirror maze and change the color of a jellyfish. An ocean awaits for your next adventure right here in SEA LIFE at Mall of America, Minnesota's Largest Aquarium.
Dive Deeper
Crank the "poop wheel" and discover how fast Sea Dragon's poop!*
Change the color of jellyfish in the interactive color-changing exhibit that you control!*
Enter the virtual Beluga Whale Dome to see these majestic creatures on a 360-degree projection dome and learn about SEA LIFE Trust's Beluga Whale Sanctuary*
*Certain interactive experiences may be closed due to safety guidelines.