Minnesota's Only Ocean Tunnel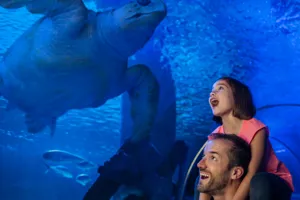 300 Ft-Long Underwater Tunnel
SEA LIFE at Mall of America's Ocean Tunnel, the length of a football field, includes four different underwater experiences all connected for an amazing journey.
Get up close and personal with 9ft long Sandtiger Sharks, rescued sea turtles, a pair of giant 14ft long Green Sawfish, and hundreds of creatures from their own point of view: under the ocean.
WHOA - You Need to SEA This!
The breathtaking underwater tunnel is more than 13 ft deep!
Wave your flipper and say hello to Amelio, Calypso, and Seemore – our rescued sea turtles!
Come face to fin with freshwater and saltwater species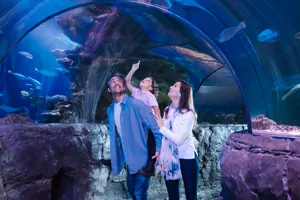 Four Amazing Underwater Exhibits
Shark Cove brings you face to fin with gigantic Sand Tiger Sharks, rescued loggerhead sea turtles,  Guitarsharks, and more!
Be surrounded by a tropical paradise in Rainbow Reef and meet hundreds of tropical fish and Seemore, the green sea turtle with a remarkable tale.
Journey through Sturgeon Lake and spot soft shell turtles, sturgeon, and one of the largest freshwater fish in the world, the Alligator Gar!
Head into the Wild Amazon which has creatures from the Amazon River including freshwater stingrays, colorful Midas Cichlids, and Arapaima.