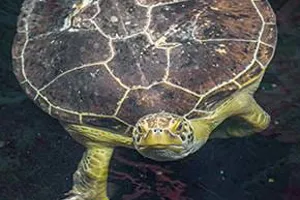 Meet Seemore the Green Sea Turtle
Meet Seemore – a rescued Green sea turtle at SEA LIFE at Mall of America! In 2009, Seemore was found off of the coast of Florida after being hit by a boat propeller. As a result of her injury, she developed Positive Buoyancy Disorder which traps air inside her body making it difficult for her to dive, float and swim.
For the past three years, our team of animal experts dreamt up and created a 3D printed shell to help her swim with greater ease. With help from engineers at the University of Minnesota, the plastic shell – or "backpack" - was built, fitted and tested on her with great success!
Now Seemore swims with her weighted backpack and is able to dive deeper and swim better than ever in the Ocean Tunnel at SEA LIFE at Mall of America.
For press inquiries, please contact us at diana.hein@merlinentertainments.biz