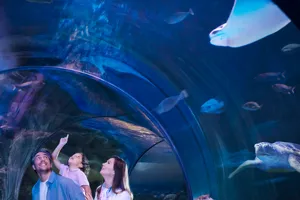 Breathtaking Stingrays
Surround yourself with graceful 4ft wide Southern Stingrays in the close to million gallon underwater ocean tunnel.
Spot dozens of playful Cownose Rays and beautiful Atlantic Stingrays in Ray Lagoon where you can see them at various angles above and below the water! Use the interactive underwater periscopes to see them face to fin in a totally new way!
WHOA - You Need To SEA This!
Southern Stingrays are found in Shark Cove exhibit which also features Sand Tiger Sharks, Sawfish, and rescued Loggerhead Sea Turtles 
Travel through a giant two-story shipwreck that landed right at the base of Ray Lagoon
Feed the stingrays at Stingray Bay in a memorable experience you can buy at our Shrimp Shack