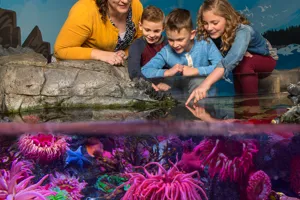 Pacific Northwest Rockpool
Touch a rough sea star, sticky sea anemone, and more in SEA LIFE at Mall of America's touchpool.
Get your hands wet in this interactive exhibit where you can touch many species of fascinating and unique creatures. Modeled after a northwest coast tide pool, this exhibit is a perfect place to get a real feel of ocean life.
Dive Deeper!
Learn fishy facts from a SEA LIFE expert every day at the touchpool experience
Sea anemones look like beautiful underwater flowers that you can touch!
See hundreds of tube feet crawl along the glass or rocks from a sea star