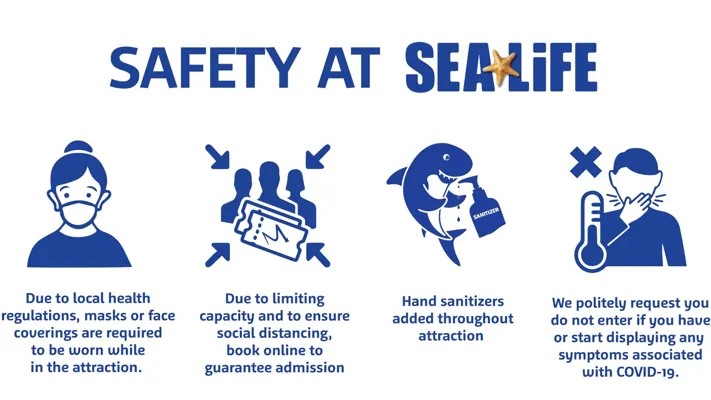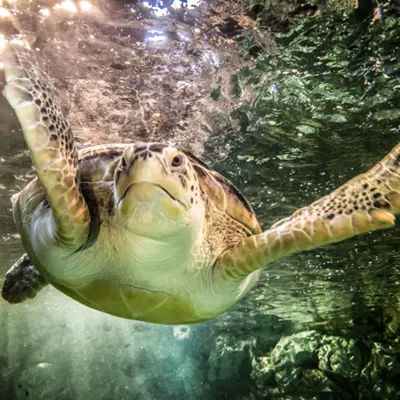 Frequently Asked Questions
Yes!  SEA LIFE is open daily.  
We are only accepting contactless payment methods and the use of debit/credit cards to combat the spread of COVID-19.
We place the utmost importance on the safety and well- being of our guests, team members and sea creatures.
To ensure that everyone can come explore our attraction without concern, we have introduced a range of new health and safety protocols intended to reduce the risk associated with COVID-19 and mitigate exposure for our guests, our team members and the greater community overall.
We are closely monitoring local, state and federal government policy changes, Centers for Disease Control (CDC) guidelines, government mandates and public health advancements. We will continue to make changes as necessary or appropriate to our protocols and procedures.
Guests will notice a lot of hand sanitizing stations, signage, floor graphics, digital messaging, stanchions, sneeze guards, enhanced cleaning procedures and face masks throughout the attraction. You can learn more about the many things we are doing by reviewing our comprehensive COVID-19 Health & Safety Preparedness Plan.
Our comprehensive health & safety plan addresses workplace/employee safety and hygiene protocols. These new protocols include providing masks, gloves and hand sanitizer to SEA LIFE employees, conducting education and training related to the impact of COVID-19, providing additional cleaning supplies and equipment, installing sneeze guards and other social separation barriers, and requiring all employees to receive a pre-shift temperature and health check. 
If you purchased tickets for a date when we were closed due to the statewide mandate, you may use these tickets for any future date through December 31, 2021. When you decide to visit, simply present your unused ticket at any ticket counter. No advance reservations are required as we have already accounted for these visits in our capacity calculations.
To request a refund, please send your name, confirmation and email address of the purchaser to Sales@sealifeus.com. Please understand that our team is working through an unprecedented number of reschedules and refunds will be issued as soon as possible.
Due to the incredibly high volume of traffic on our website, customers may experience delays in response time, and we recognize that this is frustrating. The most up-to-date information will be available on our website: www.visitsealife.com/Minnesota.
If guests' travel plans were arranged by a third-party, including travel agents, travel-booking websites, or other businesses independent of SEA LIFE, they will need to contact those suppliers directly to understand their policies and any applicable fees for changing or canceling a reservation.
If you have a reservation for the dates when we will be closed, please know that we would be happy to reschedule you at a future date. For additional questions, please contact Sales@sealifeus.com.
All memberships that were active throughout the temporary closure will be extended to cover the time we are closed. Members do not need to do anything on their end.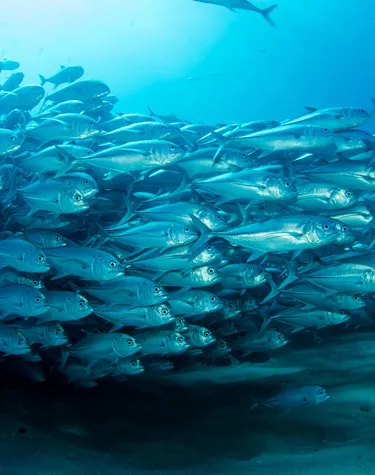 DIVE INTO SEA LIFE AQUARIUM