Celebrate your special day with an underwater adventure!
Come face-to-fin with our sea creatures at a birthday party unlike any other! A SEA LIFE Birthday Party is the perfect way to celebrate your birthday girl or boy's big day. They'll come nose to nose with sharks, stingrays, seahorses and more!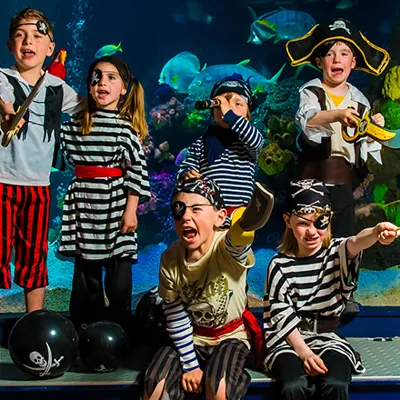 General Admission Party
PACKAGE INCLUDES:
Enjoy all day admission for up to 10 people (including adults)
Souvenir group photo
Gift for birthday child
Save $5 per person on Behind the Scenes Tours
AVAILABLE PARTY TIMES:
*Birthday Parties are temporarily unavailable*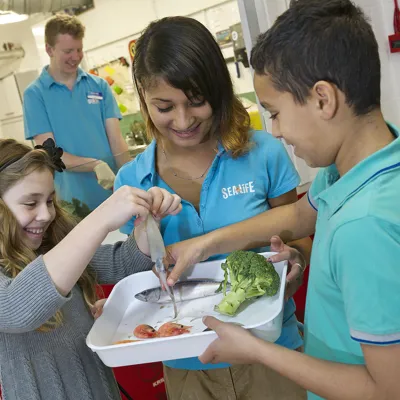 Ultimate Party
PACKAGE INCLUDES:
All day admission with up to 15 people (including adults). Discounts on additional guests up to a maximum of 25 person party size.
Celebrate in our private event room for 45 minutes
Private Behind-the-Scenes Tour for your entire party!
Plus! Enjoy stress-free planning with everything included: 

Souvenir photo and birthday gift
Group activity led by SEA LIFE party host
All party supplies (table cloths, plates, napkins, and utensils)
Storage of personal items during aquarium tour
Discounts on pizza and cake delivered from our preferred partners so you can enjoy the party!
AVAILABLE PARTY TIMES:
*Birthday Parties are temporarily unavailable.* 
PLAN YOUR PARTY
Discounted Group Admission
Discounted Tickets for Groups of 10+
Guarantee admission before sold out
Reserve a date and time that works best for you
General Admission Party Package
Standard
$119
Up to 10 Guests
Valued At
$259
Up to 10 Guests
Discounted group rate
Gift for birthday child
Souvenir group photo
Ultimate Party Package
Standard
$299
Up to 15 Guests
Valued At
$575
Up to 15 Guests
Discounted group rate
Private party room
Activity with SEA LIFE party host
Plus, a private Behind-the-Scene Tour for all your guests!
HOW TO RESERVE YOUR PARTY:
Birthday parties must be booked at least 2 weeks in advance and are subject to availability.
We require 1 adult for every 5 children in the party.
Most suitable for children ages 4-10 years old
Party package does not include food and drink. You are welcome to bring store bought food and drink or purchase at a discount through our partners for the Ultimate Party Package. 
Payment is taken at time of booking in order to reserve your party package, date and time. 
Members receive a 20% discount on the Ultimate Birthday Party Package.
Book Now
PLEASE ARRIVE AND CHECK IN AT THE ADMISSION DESK 10 MINUTES BEFORE YOUR RESERVED TIME:
We will check your final guest count and give wristbands to your guests.
Your SEA LIFE party host will provide instructions and gift to the birthday child.
Your guests can enjoy all day access to the aquarium!
FOR THE ULTIMATE BIRTHDAY PARTY PACKAGE:
You and your party guests will be led to the party room by your dedicated SEA LIFE party host.  You can use your private room time as you like for gift opening, SEA LIFE led activity, food and cake, and socializing.
A member of our staff will help clean up the Party Room. Your group will not be permitted back into the party room after your party ends.
You may take gifts and personal items out to your car and then return to the aquarium.
ADDITIONAL INFORMATION:
The themed party room is available at the party start time. Late arrival will not push back your time in the party room. Please ensure your entire group has arrived by your scheduled party time as late guests will have to wait for a staff escort to the party room.
Adults along with the birthday child must be included in the total number attending the party. Children 2 and under are free, but count towards the total capacity of the Ultimate Party Package (25 maximum).
Extra guests receive discounted admission of $15+tax per adult ages 13+ and $9+tax per child ages 3-12.
The Admission Only Party will take your group about an hour and the Ultimate Party Package will take about 2 hours; however, you are welcome to spend as much time in the aquarium as you like.  
The final number of guests attending is due by the Monday before the party.
Food and cake orders are due the Monday before the party.  If you choose to bring your own, food must be store bought or from a restaurant.
Payment is due in full at the time of reservation. The party is non-refundable once reserved. Additional party guests or food options can be added up until the Monday prior to the party date. All add-ons must be paid in full prior to the party date.
Ready to Book?
If you require further information on our birthday parties please contact our booking team. We'll be more than happy to provide all the information you need to ensure your group has a memorable experience. Email: sales@sealifeus.com
SUBMIT BOOKING REQUEST