Brave Dorothy donned a wetsuit and entered the Shark Tank
Tuesday 21st May 2019
Sydney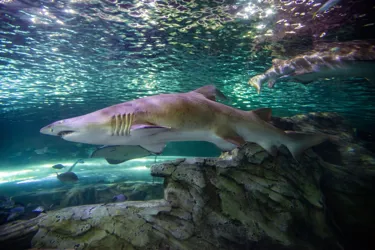 This morning, daring Uniting Springwood aged care resident Dorothy Yeomans celebrated her 104th birthday by ticking off a bucket list wish to swim with sharks at our Shark Dive Xtreme!

Proving that age no barrier to living life to the full, brave Dorothy donned a wetsuit and entered the tank which is home to five Grey Nurse Sharks, Port Jackson Sharks, two Smooth Rays (one the size of a queen-size mattress) and a range of tropical fish.

Dorothy loved the experience, saying: "How fabulous was that! I never thought I'd come that close to a shark, but thank you to the wonderful team at Uniting Springwood and SEA LIFE Sydney Aquarium for making this happen."

Harry Masefield, Shark Dive Xtreme Supervisor at SEA LIFE Sydney Aquarium, said: "We're blown away by Dorothy's amazing attitude! It's not everyday you hear that someone wants to celebrate their 104th birthday by swimming with sharks, so we knew we had to make it special! We loved making Dorothy's birthday wish come true."

Leisure and Wellness Coordinator at Uniting Springwood, Nic Langenberg organised the special event with assistance from the Shark Dive Xtreme team at SEA LIFE Sydney Aquarium.

"At Uniting, we take a wholistic approach to care and this includes creating positive life experiences for people in our care," Nic said.
"Dorothy flagged 'swimming with sharks' as her 'bucket list wish' with Uniting a year ago on her last birthday - we love her enthusiasm for taking life with both hands. Uniting supports our residents to fulfil their wishes - this is one of the most unusual, but it's so rewarding and it's been such a privilege to help make it happen. Thank you to the Shark Dive Xtreme team for personalising this special experience for Dorothy."


Diving with sharks at SEA LIFE Sydney Aquarium is an exhilarating experience and one of only a few experiences worldwide where you're guaranteed an underwater encounter with sharks. Did you know that the colony of Grey Nurse Sharks range in size from 2.5 to 3.2 metres? During the standard experience, you can scuba dive in the tank but the Shark Dive Xtreme team arranged for a special swimming experience for Dorothy on this unique occasion.