5 Ways To Inspire Kids To Save The Ocean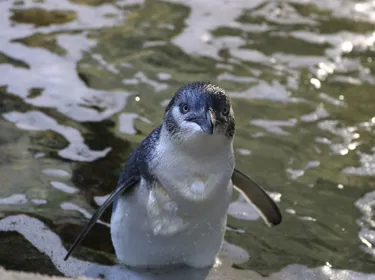 The long-term health and vibrancy of our marine life will eventually rest on the shoulders of our kids. So, with World Oceans Day coming up on June 8, 2019, now's the perfect time to light the underwater fire in your kids. Get them to genuinely understand and care about the future of our fishy, finned and fantastic ocean life – here are some do-able ways you can inspire them to save our seas.  
Watch Eco Doccos
There's nothing quite like watching incredible underwater footage. Good documentaries are a fantastic way to learn all about our oceans; what makes them tick, and what's threatening their health. With the available technology, filmmakers can go deeper and get clearer and closer to incredible underwater creatures than ever before. When it comes to doccos – you can't go past the best in the business: David Attenborough. The BBC's The Blue Planet and Blue Planet II are an excellent education tool with an environmental message that will engender your little ocean warriors.
The Real Thing
Open your kids' eyes to the underwater world in real life and appeal to their senses for a deeper connection to all things ocean. Make a day of it; visit the SEA LIFE Sydney Aquarium to animate your little one's imagination. Take them to the Discovery Rockpool where they can get involved in an interactive space – to see, touch and learn about the animals that call rockpools home. See and trace the spiral edges of a Port Jackson Shark egg, feel the pitted skin of a sea star and touch a spongy sea cucumber. Through interacting with each of these marine marvels, the kids will learn how fragile, fabulous and precious each creature is.
While you're there, introduce the kids to SEA LIFE Sydney Aquarium's conservation efforts. Through campaigns, research and education, show your pint-sized ocean advocates how to champion sea creatures by advocating for plastic-free oceans, sustainable fishing, effective Marine Protected Areas and ending the over-exploitation of marine life. Our Turtle Watch and Ocean Youth programs also promote respect and support for our future leaders in the conservation space.
Some Hard Yakka
When it comes to inspiring young folk, there's nothing quite like direct action to incite passion. On World Oceans Day on 8 June 2019, SEA LIFE Trust is setting its largest clean-up mission afloat; a 24-hour beach clean event, beginning in New Zealand and ending in California. Hosted across 50 SEA LIFE attractions, stretching from Sydney to Scarborough, get the kids involved in this global push by becoming part of this event or by pursuing your beach clean-up. Let them loose on their favourite beach, and give them the mission to make the seaside rubbish-free. Then ask them to document their day on social media using #24HourGlobalBeachClean. These pics will help the trust record what rubbish items turn up, and where. And, by using the official hashtag, your ocean advocates can enter the competition to win an Olympus Tough camera. Find a clean-up event near you.
For a personal contribution, ask your child if they'd like to donate some of their hard-earned pocket money to the SEA LIFE Trust.