6 Fun & Unique Tours in Sydney
Tuesday 15th October 2019
Sydney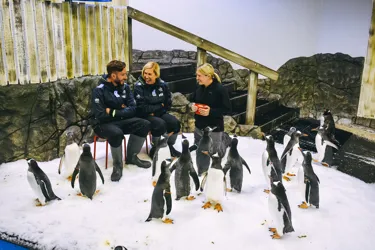 From glass-bottom boat tours to heritage walks, here are 6 unique Sydney tours that'll help you experience the fun and unique side of the beautiful harbour city. And don't miss out on discounted attraction passes!
Unique Sea Sights
At SEA LIFE Sydney Aquarium's latest Day and Night On The Reef exhibit, hop aboard the glass-bottom boat tour to discover the magic and natural wonders of The Great Barrier Reef – right here in Sydney! Meet hundreds of colourful tropical fish, huge sharks, rescued sea turtles and some incredible coral. Learn about conservation efforts and hear a host of fascinating stories. And, you get to ask your expert guide ANYTHING. This rarely-seen sight is perfect for animal lovers who want to connect with Aussie ocean residents.
For big discounts, book your glass-bottom boat tour online. And the awesome part? Each ticket includes all-day aquarium admission.
Indigenous Culture Trail
To see a different side of Sydney, join the special Aboriginal Heritage Tour at The Royal Botanic Garden to learn about the Cadigal people – traditional owners of the Sydney area. As you walk and talk, you'll learn about plant uses, culture, artefacts and even have the opportunity to try some bush foods. This is a meaningful way to experience the city.
Self-guided Walking Tours
Did you know the City of Sydney offers DIY 'history walk' guides for explorations throughout town? Each guide features a map with numbered points of interest that'll take 1-2 hours to complete. Explore colonial times at The Rocks or uncover hidden laneways with tours that let you go at your own pace, and discover things along the way.
Meet Mischievous Penguins
All aboard a once-in-a-lifetime sub-Antarctic snow expedition, in the heart of the bustling city! For a memorably-good time, stamp your Penguin Passport at SEA LIFE Sydney Aquarium to meet the cute colony of penguins making a ruckus on the ice. This 75-minute tour will see you suited-up in snow gear (it's the real deal) to get on the ice and learn all about these clumsy, majestic and interesting birds. Of course, there'll be plenty of penguin-pic opportunities to show off to your friends.
Be sure to book your penguin tour in advance online.
A Walk on the Wild Side
When in Australia, make sure you meet some iconic outback animals. And the best part is – you don't need to travel far. In Darling Harbour, WILD LIFE Sydney Zoo's latest 90-minute Wildlife Tour gives you super-cool access to restricted areas; guided by friendly keepers. Get up close to fuzzy, scaly, scary or utterly adorable animals like koalas, joeys (baby kangaroos!) and quokkas. Don't hold back on the photos.
Bonus: each ticket includes all-day admission to the zoo.
Sydney Attraction Pass
Savvy traveller alert: Merlin Entertainments offers amazing discounted passes. Choose from a 2, 3 or 4 Sydney Attraction Pass with your choice of entry to WILD LIFE Sydney Zoo, SEA LIFE Sydney Aquarium, Sydney Tower Eye, and Madame Tussauds. The more you see, the more you save. And you'll also beat the queues. Now that's a winner.