A Magical Family Day Out Awaits at SEA LIFE Sydney
Thursday 26th April 2018
Family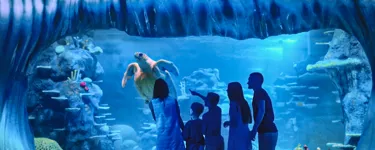 There's so many reasons why Sydney's SEA LIFE Aquarium is perfect for your next family day out, but here's our top ten!
#1. The weather won't get you down.
Come rain, hail or shine, you can plan your next family outing to Sydney's SEA LIFE Aquarium, without worrying about what the weather is doing. Whether you want to escape the heat, cold or rain, we've got you covered. We are completely indoors and undercover, and there's plenty of space for your kids to run around and blow off some steam.
#2. Get snap-happy!
Have a belly full of laughs trying to capture the most hilarious picture to share with us. We LOVE looking out for our visitors snaps coming through on social media, so when you travel through the glass tunnel in Shark Valley, be sure to capture some funny snaps to share with us... like Dad looking terrified with a great big shark creeping towards him or stealing a kiss with a crab (behind the glass, of course!).
Don't forget to tag us and use #sealifesydneyaquarium for your chance to be featured on our Facebook or Instagram.
#3. You can look, touch AND feel.
Imagine your little one's delight when they visit the "touch and feel" Rock Pool and are able to touch and hold marine life such as starfish, shark eggs, crabs and much more. They will be truly amazed at the discoveries they will find!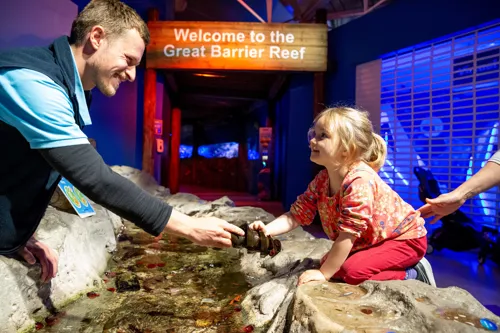 #4. Get up close with our Penguins.
Come and meet the stars of The Real Penguins of Sydney AND experience a WORLD FIRST ride through our sub-Antarctic boat ride, the Penguin Expedition, that will take you through the film set! Travel by boat through our King and Gentoo Penguin colony, under spectacular lights, through falling snow and whistling winds.
There's no other ride in the world that allows you and your family to get so close to these beautiful creatures. Your kids will be mesmorised.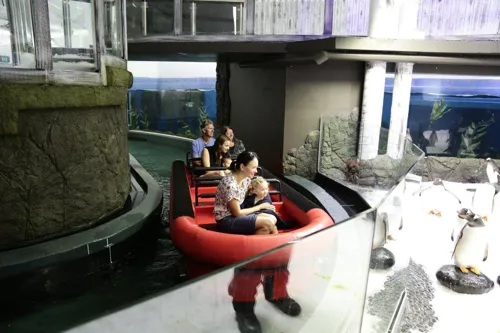 #5. Hop aboard a private boat.
Looking for something extra special? For an additional cost, you can have a private and unique family experience behind the scenes at SEA LIFE Sydney including feeding the fish from a private boat! It's so cool, it will definitely give your kids a great story to tell their friends at school on Monday.
#6. Let creativity run wild.
Your kids will be wowed in the Art Aquarium, where they can draw their favourite fish and scan it into a special machine that brings it to life and they see their creation swim across the 10 metre wide virtual tank - and at no extra cost either - this is included in the price of your admission.
#7. There's plenty to explore.
See where life began by exploring the prehistoric fossils of the Jurassic Seas, or "just keep swimming, just keep swimming" on to Clownfish Garden to see if you can find Nemo from, no doubt, one of your family's favourite movies.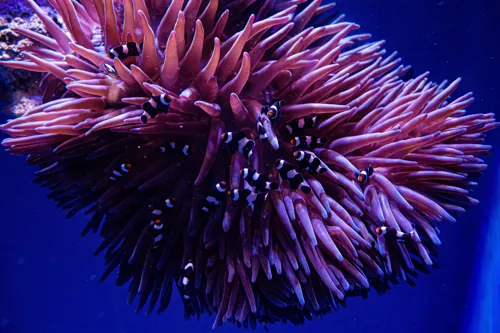 #8. Forget the packed lunches.
No need to spend time packing up lunch boxes in anticipation of the same old fast food selection you're likely accustomed to, either. There's plenty of food options available at the Wharf Kitchen, including all the usual favourites such as fish and chips, PLUS many healthy options too.
#9. It's oh-so easy to get there.
How do I get there? I'm glad you asked! With cheap parking options located within a short walk and being conveniently situated near the ferry drop off, this is a family day out that's very easy to get to. It's also buggy and wheelchair accessible so is super friendly for your whole family to come and enjoy.
#10. If that isn't enough - check out these savings!
Buy your tickets online and not only will you save up to 20%, you'll skip the queues when you arrive.
Looking to get the kids out of the house (and your hair) for more than one day? Receive HUGE savings when you buy a Sydney Attraction Pass, which will give you access to up to four family attractions including SEA LIFE Sydney Aquarium, Sydney Eye Tower, Madame Tussaud's Sydney and WILD LIFE Sydney Zoo!