Are you scared of Sharks?
Thursday 16th January 2020
Sharks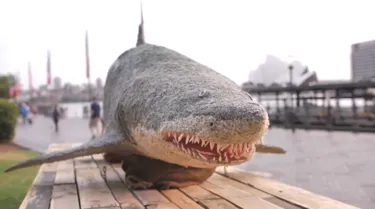 Today SEA LIFE Sydney Aquarium has revealed new national research that uncovers Australians' attitudes towards sharks with the objective to help raise awareness of and help reduce the threats that the species face in the wild.
Are you one of the 72 percent of Australians[1] that are scared of sharks or do you sit with less than 5 percent of the Australians that know how many shark species there are in the world?
In light of the international Union for the Conservation of Nature (IUCN's) latest stats that reveal roughly 30 percent of the world's sharks and rays species are threatened with extinction[2], SEA LIFE Sydney Aquarium has conducted national research that looks to uncover Australians' attitudes towards sharks.
Encouragingly, the research revealed that 77 percent of Australians would support a national initiative to help reduce threats to sharks in the wild. The Aquarium now aims to use this insight to inspire Australians to respect, appreciate and live harmoniously with sharks and continue to work with experts to offer solutions to help reduce the risks that sharks face in the wild.
Rob Townsend, Marine Scientist at SEA LIFE Sydney Aquarium says, "Looking into the attitudes of Australians has highlighted some really encouraging insights. 61 percent of Aussies admitted that they didn't know that such a significant number of shark species were in an imminent or severe status of danger and only 30 percent of Australians knew that Grey Nurse Sharks are Critically Endangered. While this highlights knowledge gaps, it also tells us there are huge opportunities to educate our guests on the topic of sharks.
"Through our Animal Rescue Centre, daily Aquarist talks, feeds and interactive animal encounters, the team are committed to driving awareness, debunking myths and championing sharks. Just last month, we rescued and relocated a Grey Nurse Shark from Lake Conjola and safely released it in to the waters off Ulladulla. We were informed by the DPI that a Grey Nurse Shark had been isolated in the lake and with dropping water levels, increasing water temperatures plus the school holidays fast approaching, we were becoming concerned for the shark's welfare and wanted to move quickly. We successfully caught and transported the shark in our custom-made shark transport tank and then watched as she safely swam into the waters off Ulladulla.
Grey Nurse Sharks are Critically Endangered on the East Coast of Australia so it was particularly important to us that we released the shark back into the wild in the hope that it continues to breed and support the recovery of the species," added Rob.
Rescue operations such as this provide the team at SEA LIFE with the opportunity to remind the public that Grey Nurse Sharks are threatened and highlight some of the challenges they face in the wild. Another major threat to sharks in the wild are ghost nets - lost, abandoned or discarded fishing nets - that are drifting in the ocean currents, ensnaring, harming and killing wildlife. These floating nets trap other nets, plastic and organic debris, as well as a range of fish, turtles, seabirds and marine mammals and are often referred to as the ocean's silent killer.
"Today, SEA LIFE Sydney Aquarium is unveiling a four meter long, sculpture of a Grey Nurse Shark that was created by Ghost Net Art Project. This beautiful sculpture is a heartbreaking reminder of the major threats that sharks face in the wild," added Rob Townsend.
Ghost net art has proven to be a great vehicle for alerting the general public to the damage that ghost nets inflict on the marine environment. Sue Ryan from Ghost Net Art Project says, "We were honoured to work with SEA LIFE Sydney Aquarium on the creation of this Grey Nurse Shark sculpture. The net was collected by Mapoon Aboriginal Community Indigenous Land and Sea Rangers from beaches around their community on the eastern side of the Gulf of Carpentaria. The sculpture took a team over 160 collective hours to create and will be displayed in SEA LIFE Sydney Aquarium from February - we love creating engaging art that alerts the public to the alarming problem of marine debris and the deleterious effects it has on marine life and hope that by making the public aware of the dangers of ghost nets, we can help reduce its impact on our wildlife."
When asked what they thought the top five biggest threats to sharks are, Australians responded:
#1 - Illegal Shark Trade
#2 - Commercial Fishing
#3 - Plastic Pollution
#4 - Habitat Degradation
#5 - Ghost Nets
Encouragingly, Australians were familiar with the impact of ghost nets - but this again highlights that there is an opportunity for the team at SEA LIFE to spread the message and highlight ways that the public can help.
(Above) A deceased shark that died as a result of being caught up in netting. The (gill net) shown is the same kind as is being used to make the Grey Nurse. Pictures are courtesy of Dhimurru Indigenous Land and Sea Rangers and GhostNets Australia
Members of the public are invited to visit and take photos with the shark sculpture from 9:00 am on Wednesday 15 January- 6:00 pm on Thursday 16 January at First Fleet Park, The Rocks, Sydney.
Key Research Findings
Looking at Australians attitudes towards sharks, the research revealed that Aussies living in the NT are the least scared of sharks (57 percent) while those in Vic are the most scared of sharks (78 percent).
How scared of sharks are Australians (breakdown by state):

Vic - 78% are scared of sharks
QLD - 75% are scared of sharks
WA - 75% are scared of sharks
SA- 74% are scared of sharks
Tas - 74% are scared of sharks
NSW - 66% are scared of sharks
NT - only 57% are sacred of sharks

The Top three reasons Australians are scared of sharks:

"They attack people"
"Their teeth"
"They are bigger than me"

62 percent of Australians think the media have a role to play in helping drive positive messaging around sharks
What do Australians think the biggest threats to sharks are?
#1 - Illegal Shark Trade
#2 - Commercial Fishing
#3 - Plastic Pollution
#4 - Habitat Degradation
#5 - Ghost Nets