Eco-Friendly Ways To See The Great Barrier Reef
Friday 21st June 2019
Sydney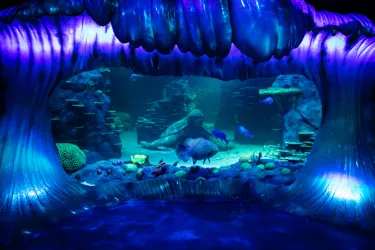 Odds are – a Great Barrier Reef adventure is on your holiday bucket-list. Here are some hot tips for seeing it in an eco-friendly way!
Heron Island Research Station
Get hands-on at Heron Island, which has a research facility on site! The data collected at Heron is vital for understanding the reef to protect its future. Take a tour of the station and meet the scientists who work on the island. They're thrilled to share their knowledge and give you insights into their important work. On top of this, the scuba diving and snorkelling are second to none; excellent clarity and great schools of glittering fish everywhere you look! You might even see Green Sea Turtles, as they mosey about in one of their favourite haunts.
Study Mantas on Lady Elliot
Lady Elliot Island is a mecca for manta rays. Nothing can prepare you for the spectacle of mantas gliding past, fins flapping gracefully. They are magnificent creatures! The reef is also home to turtles, other kinds of rays, and even whales. Lady Elliot Island specialises in eco-tourism for various budgets. Stay in a safari tent, eco-cabin, or a more traditional apartment. The island's Reef Education Centre is truly world class, with interactive displays and info on all the dive sites. In the evenings, they run interesting talks and presentations, so stop by once you've dried off for the day!
Day and Night on the Reef
If you can't get to the Great Barrier Reef, you don't have to miss out! SEA LIFE Sydney Aquarium has the biggest reef exhibit in the world, called Day and Night on the Reef. Brand new and costing $5 million, it's brimming with tropical fish, rays, and other reef species. Walk across our interactive bioluminescent beach to experience what this phenomenon is like in the wild! There's also a new Cruise Whitsundays Glass-Bottom Boat Tour, a beautiful ride across the top of the reef. The SEA LIFE vision 'is of a world where our oceans are healthy, properly protected and full of diverse life.' The SEA LIFE Trust is actively involved in community conservation projects and pioneered the Global 24 Hour Beach Clean Up event.
Citizen Science
If you'd like to get actively involved, it's easy to become a citizen scientist. Sign up to study mantas, mangroves or coral habitats – the list is long, so there's likely to be something you'll love. The conservation community relies on citizen scientists to help out on key projects, especially when funding is critical. Volunteering helps get these projects closer to completion, so the data you collect will make a big difference! To get involved, search online for 'reef citizen science alliance.'
Is it Eco-Friendly?
How do you know if your tour operator is 'eco-friendly?' Visit the Eco Tourism Australia website for a comprehensive guide. You can check the eco-credentials of your tour operator, or the site can help you find an operator if you haven't booked yet. If eco-tourism matters to you, this is a great resource to help you enjoy your holiday, while also protecting the world's largest living organism: the Great Barrier Reef!