Looking for a Sydney Aquarium Family Pass?
Thursday 7th February 2019
Family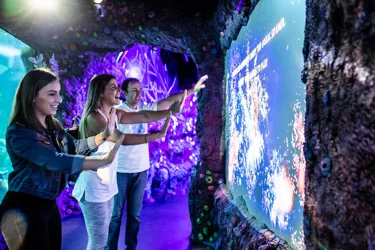 Gone are the days of a family pass because no matter whether you're buying one ticket or ten, we offer huge savings for SEA LIFE Sydney Aquarium tickets and experiences when you buy online through our official website.
Whether it's general admission, an annual pass or a ticket for one of our thrilling experiences, you will save up to 20% on your ticket price when you buy online. What's more, you'll also gain access to extra savings on food, drinks, gifts online. Did we mention you also get to skip the queues when you arrive with a mobile ticket?
Once you've bought your discount Sydney Aquarium tickets online, here are three things amazing things you can look forward to when you visit...
Brand New Exhibit: Day and Night on the Reef
You can now experience one of the seven wonders of the natural world, the Great Barrier Reef, right in the heart of Sydney. SEA LIFE Sydney Aquariums new interactive experience "Day and Night on the Reef" is officially the world's largest Great Barrier Reef Display - how cool!
In this experience, you will embark on a journey of magical discovery as you walk through and see the Reef transform from dusk to dawn. Filled with state of the art technology, you'll be amazed as you splash under moonlight through the waves of the Bioluminescent Beach which lights up under your feet, interact with the rare event of coral spawning where motion sensors detect your hands as you help to blast coral spawn into the water and, at the end of your journey you will watch a mother turtle climb up onto a beach and lay her eggs. You must help get rid of rubbish on the beach by stomping on it in order for the eggs to hatch.
This is just a few of the sensory delights that the whole family will be amazed by.
Glass Bottom Boat Experience
Back by popular demand! The SEA LIFE Sydney Glass Bottom Boat is an experience the whole family can enjoy together. You will get a rare view of the aquarium through the bottom of the boat as well as over the sides, where you will see all the aquarium and our new Day and Night on the Reef exhibition has to offer, from sharks, rays, our three rescued giant sea turtles and hundreds or tropical fish. Our experienced guide will teach you about the animals and their habitats as they are in the wild, as well as the cute, fun and cheeky personalities of our very own residents.
Priceless Family Bonding
No matter what you do at the aquarium, which exhibits you see or experiences you partake in, you will all come away with your very own unique stories of your favourite animals, things you learned, what surprised you and which exhibits you enjoyed the most. This can make for even more, great, family bonding time as you share your experiences together.
See a full list of our discounted SEA LIFE Sydney Aquarium tickets here.