Have some Easter fun
Friday 13th March 2020
school holidays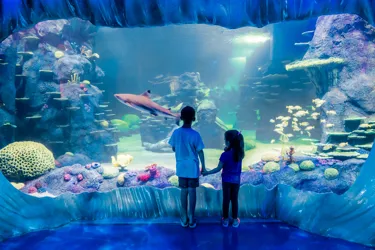 The Easter Long Weekend is coming. Tots in tow? Prepare for crafts, a major egg hunt and egg-citing wildlife adventures! Friday through to Sunday, here's how to spend four amazing days in Sydney with toddlers.
Friday
The first day of the Long Weekend requires some fun and therapeutic art-making at home sweet home. Because when was the last time you were all together with a day off? It's a perfect family bonding opportunity.
Why not piece together adorable bunny ears? Or try your hand at creating eggs out of paper mache? Use them to decorate an Easter egg tree – just like Christmas! You could also plant something new in the garden in the spirit of new beginnings. And enjoy Easter-themed treats like chocolate fondue and hot cross buns.
Saturday
Animal-loving toddlers? This Easter holidays, bring your bunnies to neighbouring SEA LIFE Sydney Aquarium and WILD LIFE Sydney Zoo. There's always something new happening at these top family attractions in Sydney CBD, including special activities during the Easter holidays. 
t SEA LIFE Sydney Aquarium, keep Easter colourful with 13,000 sea creatures and over 700 species to discover. Don't miss Day & Night On The Reef, a surreal Great Barrier Reef experience in the heart of Sydney CBD. Learn about turtles, interact with bioluminescence, and take a memorable family snap at The Giant Wave. For something extra special, toddlers over 3+ will love the unique Glass Bottom Boat tour that voyages over the Day & Night exhibit. Curious kids can ask the friendly tour guides – anything!
Now journey overland at WILD LIFE Sydney Zoo. See Australia's bunny-looking creatures of the bush. Fuzzy roos twitching their long ears and nom-nom-ing away. Cute wallabies hopping about. Playful quokkas scuttling 'round. Plus, so many more Australian animals to see. Have an unforgettable brekky with koalas and send 'Happy Easter!' postcards to your loved ones with a family koala photo.
Check out the 'What's On' pages for At SEA LIFE Sydney Aquarium and WILD LIFE Sydney Zoo.
Psst! One last must-know Easter tip: book tickets to these attractions via their website. You'll save up to 20%, plus skip those school holidays ticketing queues. Better yet, why not visit both to save over 35%?.
Sunday
Ready for the biggest egg detective game? Join the annual Great CP Egg Hunt at Centennial Parklands. It's great fun for kids aged 3-8. Children won't actually be rummaging for chocolate eggs (safety reasons!), but instead, they'll follow an activity-filled trail map with chocolate rewards. And that's just as egg-xhilirating. Alas, autumn in Australia brings cooler, sunshiny weather. A perfect time for bunny-eared toddlers to skip through grasslands, discover strange critters, and smell the flowers.
Monday
On the last day of this Easter break, my true love gave to me… community spirit. For a faith-filled celebration, head to the Sydney Easter Parade & Family Day down in Hyde Park. People from different denominations, ethnic heritage and age groups revel in live music, a marching band, giant inflatables and animal costumes.
Happy Easter holidays! May it bring your family loads of joy, adventures – and chocolate