Get lost in your feelings with Emo Nemos!
Monday 26th October 2020
Tropical Reef Fish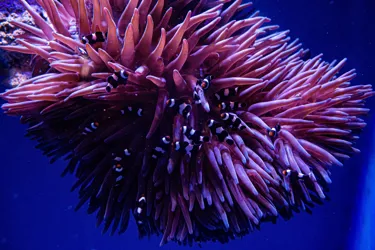 For Clownfish they aren't that funny, but their shapeshifting ability is a little spooky and very cute. They are black and white clownfish and they've arrived at SEA LIFE Sydney Aquarium just in time for Halloween.
The Darling Harbour aquarium welcomed 50 baby black and white Clownfish to its Jurassic Seas this week where they have quickly adapted to their new anemone and are surprising guests with their unique features.
Although they are the same species as the animated Nemo, these Ocellaris Clownfish are only found on the reefs of the NT in Australia and they are a very special colour morph, having black instead of orange stripes.  For this reason, they are affectionately known as 'Emo Nemos'.
Beyond a distinctive exterior, these shapeshifters also have the extraordinary ability to naturally change sexes from male to female when the dominant female dies. But once they change, they can't go back!
As babies, the aquarium's Emo Nemos are currently around 5cm long but will grow over time up to 11cm. In their new home, they will enjoy treats of both the plant and animal kind while playing an important role in educating visitors on the issues faced by their wild environment including the negative impacts of reef bleaching events.
Stop by the aquarium and see the spooky new additions along with 13,000 other underwater creatures in person this Halloween, and don't forget to keep an eye out for five pumpkins hidden throughout the attraction!
Opportunities to meet some of the aquarium's hair-raising creatures will also be available via Facebook and Instagram every day from Monday 26 October to Saturday 31 October.
Planning a trip to SEA LIFE Sydney Aquarium? See more and save more with access to SEA LIFE Sydney Aquarium, WILD LIFE Sydney Zoo, Madame Tussauds Sydney and Sydney Tower Eye on one Big Ticket. Book now