SEA LIFE and Panasonic bring the magic of the underwater world into homes across Australia
Monday 4th May 2020
Live stream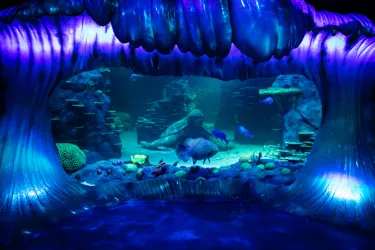 We have teamed up with Panasonic to live stream some amazing underwater sea creatures – giving viewers the chance to experience all the marine magic in high definition from the comfort of their home.
We are using the Panasonic x2000 video camera to create our virtual aquarium - live streaming playtime and feeding time with a diverse range of appealing marine and terrestrial life, via our Facebook page.
We have sought to brighten up newsfeeds and educate fans both young and old – from spontaneous moments such as a dugong getting a belly rub, to learning the science behind a coral reef.
"We wanted to give people a closer experience than ever before, whilst also providing families who are stuck indoors, with resources, materials and fun topics to talk about. Working with Panasonic, we are able to bring the vibrant underwater world to life on screens big and small around Australia. We are thrilled that our viewers can dive into our world and enjoy uninterrupted, professional quality live streams at the click of a button," said Richard Dilly, General Manager, SEA LIFE Sydney Aquarium.
Since March this year, viewers have been enjoying watching fascinating animals get fed, keepers playing with animals, and taking advantage of the opportunity to listen to expert aquarists and having their questions answered live on video. To catch our next live stream head to: https://www.facebook.com/sydneyaquarium/.
Mother of three, Kasey Weir from Brisbane is a big fan of our live streams and insists that they are a life-saver while at home during isolation:
"The live streams are such a joy to watch and the whole family learns so much about the beautiful creatures. The best part is that you really feel like you are out of the house and there with the animals – my kids actually wave at the screen!" said Kasey.
Ayla aged 7 and Maisie aged 3 watching turtles on SEA LIFE Sydney Aquarium's Live Stream
Powering the stunning underwater display is Panasonic's X2000 video camera, a convenient, 'plug and play' solution for our team. The camera is able to connect to Wi-Fi and directly live stream content online in HD quality, without the need for extra equipment. Other features perfect for live streaming include 4k recording, high resolution audio, a wide-angle + zoom lens and precision face detection.
The professional technology is a hit for SEA LIFE staff who can focus more on the animal interaction and less on technical issues.
"Lighting and poor sound quality are two big issues we have when filming in the aquarium. Having a professional set up like Panasonic's X2000 has meant we are able to produce better quality live streams then just using our mobile phones. Plus, the zoom lens allows us to capture amazing detail - whether it be penguins calling in the middle of the stream to a turtle spraying water out of his nostrils directly into the camera!" said Emma Malik, Supervisor - Animal Training & Guest Interaction, SEA LIFE Sydney Aquarium.
Following the success of the live streams, we have also launched Tank TV – a 24-hour live stream using Panasonic's AW-UE4 pan-tilt-zoom camera to showcase different parts of the aquarium on our website. We have been thrilled by the response, which allows our guests to connect at any time for experiences such as the Great Barrier Reef exhibit. This camera was also simple to install and was up and streaming within a day.
Richard Dilly sees live streaming as a trend that will continue even when the aquarium re-opens its doors: "The ability to live stream has been massively engaging not only for our guests, but also for our teams – we've been telling our aquarists for years that they are the stars of the show, and all of a sudden they're hitting internet fame talking about their favourite subjects! We have found a new medium and a new way of achieving our purposes – you can't come to us? No worries, we'll come to you!"