Pig the Dugong celebrates 21
Wednesday 27th November 2019
Dugong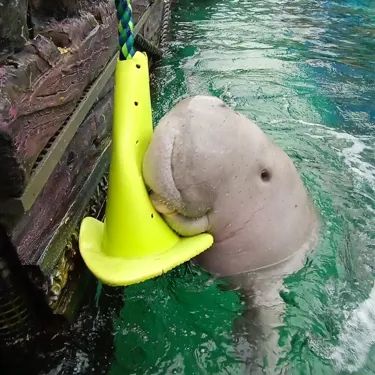 Today, our resident Dugong, Pig celebrated a significant milestone, kicking off his 21st birthday celebrations surrounded by friends – aquatic and human alike.
The 300-kilogram birthday boy was treated to a morning of celebrations, topped off with his very own lettuce-inspired jelly and bean sprout cake while crowds of guests joined in the celebratory singing. A dugong-inspired cake and cupcakes were also created to treat the humans!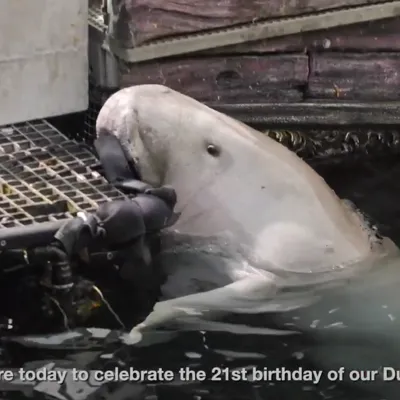 In true 'Pig' style, the resident Dugong also put his guests to work, as his keepers taught excited Dugong fans how to thread his lettuce tray, which he consumes every ten minutes.
Aquarists who work closely with Pig also spoilt him with extra special back scratches and belly rubs, followed by playtime with his new birthday toy – an upcycled firehose octopus-inspired toy, that was hand crafted by one of Pig's aquarists.
"We're so excited to celebrate Pig's big 21st birthday! We're honouring this special occasion in true dugong style with all of Pig's favourite things in life – friends, toys, belly rubs and of course lettuce!" said our Dugong Supervisor, Kerrie McDonald.
The special birthday celebration is part of our dugong enrichment program, where keepers enhance the Dugong's environment with activities and objects to help stimulate natural behaviour.
"Dugongs are intelligent animals, so it's important that we provide a variety of fun enrichment activities to encourage increased behavioural diversity. Today, it is his new toy, however we have a number of ways of encouraging development including playing with a variety of toys as well as a tailored training and enrichment program" continued Kerrie.
Pig was named after the colloquial term "Sea Pig" used to describe Dugongs, and this affectionate name suited him perfectly due to his messy eating habits and big appetite. Pig is one of only two dugongs in human care in the world and has called SEA LIFE Sydney Aquarium home since late 2008. Pig was rescued from Forrest Beach in North Queensland when he became separated from his mother at a very early age, and after a period of rehabilitation, Pig was released back into the wild. However when he was found washed up again the decision was made not to re-release him for fears he wouldn't survive.
Pig has gone on to create magical memories for over one million guests every year, now has his own Instagram page with over 500 followers, has appeared in a popular reality TV series, assisted in a successful marriage proposal and has recently become the face of a petition to have a Dugong emoji created to raise awareness for dugongs in the wild. 
Guests are invited to visit the birthday boy on Dugong Island here at SEA LIFE Sydney Aquarium this weekend and pass on their best birthday wishes!