Celebrate a Summer of Sharks
Wednesday 11th December 2019
Sharks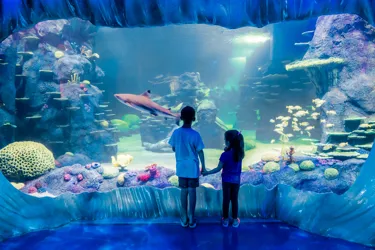 This Summer, we will be celebrating all things JAW-some! Discover the 13 species of sharks which call the aquarium home and become a shark expert through a range of interactive activities focusing on myth-busting, conservation, fun facts and more!
Embark on your shark escapade through the aquarium and put your knowledge to the test – can you spot all 13 of our shark species? Hint: there are four different species in our new Day and Night on the Reef exhibit alone, including the Blacktip and Whitetip Reef Sharks, Leopard Sharks and Tawny Nurse Sharks.
Get up close to shark eggs and teeth, and test your eyesight: can you spot the ghost netting left behind in the ocean by fishermen? Children will discover the dangers presented to sharks and other marine life by ghost nests in the wild, and learn about the importance of the role they play in our marine ecosystems. 
Explore what Sydney Harbour really looks like below the surface as you walk through the Shark Valley tunnels, debunk some of the most common shark myths, find out what sharks eat and leave with endless shark facts to share with your friends!
With opportunities to learn about and meet a variety of sharks, from Port Jackson Sharks and Wobbegongs, to three-metre-long Grey Nurse Sharks, go below the surface and discover the ocean's most misunderstood creature.
And for the big kids (14+), take your experience to the next level, literally going below the surface with Shark Dive Xtreme - an exhilarating experience and one of only a few experiences worldwide where divers are guaranteed an underwater encounter with sharks.