Sphen and Magic are stronger than ever!
Wednesday 30th October 2019
Penguins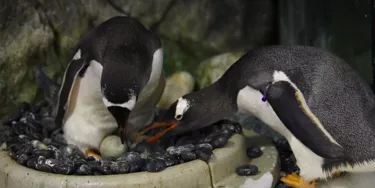 Our same sex penguin power couple Sphen and Magic are stronger than ever this breeding season and our keepers are rejoicing!
Sphen and Magic began developing a strong bond and became inseparable in early 2018, displaying such a loyal partnership that the keepers gave them a foster egg to raise in October 2018. Fast forward one year and baby Sphengic has just turned one!
This breeding season, the famous penguin couple wasted no time in setting up the biggest (and neatest) nest, created with a beautiful arrangement of 'ice pebbles'. Our keepers didn't hesitate in fostering them an egg for the second year in a row from a couple who weren't able to care for the two eggs they had.
"Sphen and Magic's partnership has remained strong all year so we had no doubt that they would couple up again this year and build an impressive nest. They have the neatest and largest nest in the colony and when  we noticed that another couple were struggling to incubate two eggs at the same time, we made the decision to foster the second egg to the power couple of the colony - Sphen and Magic!" said Tish Hannan, Penguin Supervisor here at SEA LIFE Sydney's Sub-Antarctic Penguin colony.
"They're fantastic parents - both very loyal and protective. Baby Sphengic, who turned one on 19th October had an excellent start to life under their care and while she's still a bundle of energy and very loud, she's matured nicely but still quite unsure as to what all the adults are doing this breeding season! Sphengic may or may not have a little brother or sister in a few weeks, we're yet to confirm if the egg is fertile," added Tish.
Penguins show their love for one another by bowing - which is a common occurrence during breeding season - particularly from Sphen and Magic. Our guests  over the next month will get to see the penguin couples sitting on their nests, incubating and protecting their eggs.
Our Gentoo Penguin breeding program serves an important conservation purpose so that the public can get close up and personal with our penguin colony so they can understand the plight these birds face in the wild populations. Single use plastic continues to be a huge issue for the penguins but our hope is baby Sphengic (and the new chicks) will help convince people to reduce their use!  Now in its second year and hopes to follow in the path of sister aquarium, SEA LIFE Melbourne Aquarium's Penguin breeding program, which after six consecutive years is amongst the most successful in the world.
Meet the whole penguin gang
Related blogs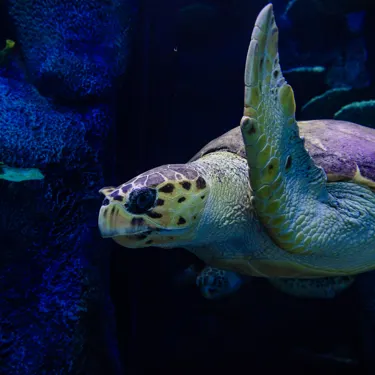 Say Hello To Our Penguin Chick!
SEA LIFE Sydney Aquarium welcomes first Little Penguin chick for 2015
Related blog posts