Get in and swim
Monday 31st August 2020
Family, Sydney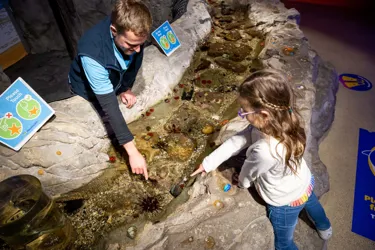 Sydney is a sandy paradise, but when your family consists of kids of different ages, sometimes it's difficult to find a swimming spot to suit all. Why not think outside the beach and give one of this city's many rockpools a whirl?
Dee Why Rockpool
This beachside suburb is the most family-friendly on the Northern Beaches. You can easily spend a whole day here in summer, with a long pram-friendly promenade, a fantastic selection of restaurants, great beach and a brilliant rockpool. At the end of the promenade, this pool has natural sandstone and concrete walls. An epic 50-metres in length, there's also a dedicated toddler area where your pint-sized swimmers can splash safely in shallow water. The pool is always spick and span; well-maintained, with toilets and showers close by. When you're done in the water, head up to the excellent playground.
North Curl Curl Rockpool
Park near the Surf Life Saving Club, then walk down the steps to the beach. This rockpool is perfect for lap swimming, so you can get some exercise while the kids do some snorkelling in the pool's shallower parts. There's plenty of aquatic wildlife to wow them in this 25-metre pool, and it's also a great spot to capture some fabulous family photos. Formed from natural rock, this gem has a gorgeous, natural feel; if your family loves salty summer hair and clean sea air, this is the pool for you. When it's high tide, you can only access the rockpool through the cliff path from North Curl Curl to Dee Why Headland.
Minerva Rockpool
If you feel like a family adventure, this natural pool is well worth the 2.4km, 30-minute walk, each way. Drive your crew to the Dharawal National Park at the end of Victoria Road in Wedderburn. Take the lovely track to the pool, which begins opposite the picnic area. The Dharawal people regard Minerva Pool as a significant, so it's essential to respect this sacred site. The Local Aboriginal Land Council asks only women and children swim in this pristine sandstone pool. If you pack a picnic and BYO water, you can enjoy a bite to eat while watching the waterfall plunge into the pool.
Discovery Rockpool
At SEA LIFE Sydney Aquarium, you and your family have access to all the creatures that call Sydney's rockpools home. The best part is, it's a rain, hail or shine activity, as well as being safe and fun! This zone features a seaside backdrop and a map to show you the best rockpools NSW has to offer. An interactive space where you and the kids can engage your senses; touch and see a myriad of marine creatures who hang out in rockpools. Touch a Port Jackson Shark egg, stroke the rough skin of a sea star and feel the cushiony spring of a sea cucumber. The best part of this experience is – you can teach the kids how to respect and handle sea animals, as well as identify which ones to steer clear of.
Bronte Bogey Hole
The tide makes all the difference when it comes to this pool. The Bogey Hole is at its best midway between high and low tides. Bronte Beach boasts beautiful turquoise water at the best of times, but this rockpool is even clearer. At mid-tide, the water is around chest height, making it marvellous for people of all ages. Catch gentle waves or float on your back and savour the moment. In the Eastern Suburbs, you're spoilt for choice when it comes to magical rockpools; small and shallow; this is one you can enjoy this one with the kids.