Sydney's Newest and Cutest Penguins Have Waddled into Town
Tuesday 15th November 2016
Penguins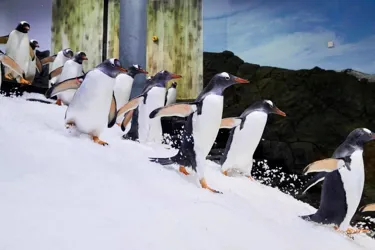 Dive into SEA LIFE Sydney Aquarium's all-new Penguin Expedition for an up close and personal encounter with Sydney's newest and cutest Gentoo penguins!
Penguin Expedition at SEA LIFE Sydney Aquarium, Darling Harbour is the world's first ride-through penguin experience providing guests a unique opportunity to enter the world of sub-Antarctic penguins to discover all about their habitat.
Now open!
This impressive $9 million experience opened its doors to the public on the 9th of November 2016 and is inspired by Macquarie Island, an Australian-owned island that lies in the south-west Pacific Ocean, an island in which the spectacular Gentoo species calls home.   
This new amazing discovery aims to educate guests on the conservation threats facing the penguins' home and highlights the impacts of plastic pollution and habitat destruction on these majestic birds.
Included in all tickets
Entrance to Penguin Expedition and all penguin trainer talks are included in the cost of admission, no matter what ticket or pass you buy!
For maximum value and fun, bundle your visit to SEA LIFE Sydney Aquarium with other great Sydney attractions and save heaps. Head to the Sydney attractions passes page on the tickets section of this website to find out more about these great Sydney attractions deals.
Want to see more?
Check out the Penguin Expedition page for more info and pics of this awesome new experience, or get to know some of the characters from the colony.