World Turtle Day
Thursday 23rd May 2019
Turtle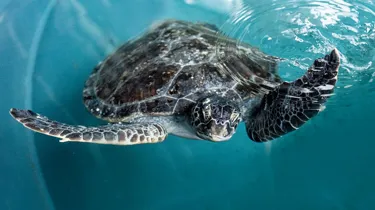 Today is World Turtle Day - a day to bring attention to and raise awareness, knowledge and respect of turtles.
World Turtle Day is a great opportunity for everyone to consider the ways in which human activities can tip the scales against the survival of these ancient mariners.
Worldwide, six of the seven Sea Turtle species are classified as threatened or endangered due to human actions and lifestyles - a major threat to turtles is plastic pollution.
This was experienced first-hand in February, when our Aquarium opened its Animal Rescue Centre and welcomed its first patient, a Green Sea Turtle named Matilda. Emily Best, Senior Aquarist here at SEA LIFE Sydney Aquarium, said: "We got a call back in February from a member of the public who advised us that a Green Sea Turtle was found struggling in Dolans Bay, Port Hacking (NSW). The female turtle was underweight, suffering from buoyancy issues and covered in barnacles."
After naming her Matilda, the member of the public that found the sick turtle, contacted the curatorial team and a home was immediately set up for her in our Animal Rescue Centre.
"Matilda wasn't eating much at the beginning and we were becoming quite concerned, then after two weeks we came in to see that she had passed plastic during the night. The poor thing had ingested over one meter of fishing line and a sticker from a Turkish candy bar, which had clearly caused her discomfort, pain and impacted her appetite.
"After gaining 4kgs and receiving approval from the vet, our team transported Matilda by boat to deeper waters, a few kilometres from Maroubra Beach and released her back into the wild last month. Matilda's rescue reinforces the devastating impact that plastic pollution is having on marine life, who mistake plastic for food. Fortunately for Matilda, there was a happy ending but this won't always be the case if we don't start to change our ways," added Emily.
Tips to reduce plastic consumption this World Turtle Day:
Consider if a straw is necessary
Invest in a recycled drinking cup or water bottle
Try and stop using plastic bags
Recycle!
SEA LIFE attractions across Australia and New Zealand have launched a limited edition World Turtle Day Keep Cup in order to raise much needed funds for these ancient creatures, many species of which are critically endangered. $5 from the sale of every Keep Cup will go to SEA LIFE's charity arm - the SEA LIFE Trust - to help in their endeavour to protect turtles through research, campaigns and education. The limited edition Keep Cup can be purchased online when buying a SEA LIFE ticket, or via the SEA LIFE attraction's gift shops.
For more information on our turtles click here