Book online & save
Flexible Rescheduling
We are now cashless
Book online & save
Flexible Rescheduling
We are now cashless
Discover our species of rays!
There are over 500 different species of Rays and Skate in our oceans and rivers. Here at SEA LIFE London we have a variety of ray species for you to get up close to, from the spotty skates to the massive southern stingrays.
Undulate Ray
Though they are commonly known as Undulate Rays, Undulates are actually a type of Skate. Rays and Skate are similar but there are a few differences including how they reproduce; Rays give birth to live young, whereas Skate lay eggs.
Undulate Rays are very well adapted for life on the sea bed; they have flattened bodies so they can easily hide under the sand and their bulbous eyes poke out to spot any tasty prey swimming past. To catch their food, they will leap out of the sand and trap it under their huge wings. With their mouth full of crushing teeth located underneath them it is easy for them to quickly grab and consumer their prey.
Sadly Undulate Rays are now endangered off the coast of the UK due to overfishing. SEA LIFE London Aquarium is part of a national Undulate Ray breeding program and has already welcomed a number of healthy, baby Undulate Rays into the world.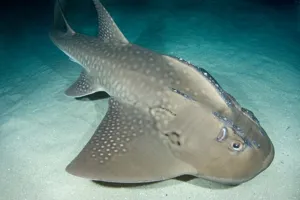 Bowmouth Guitarfish
This wonderfully bizarre animal is called a Bowmouth Guitarfish. Though it is classified as a Ray, really it is half Ray and half Shark! Rays evolved from Sharks but this species stopped somewhere in-between.
When you visit us look out for our Bowmouth, Betty, in 'Pacific Shipwreck'. Like other Rays and Sharks, Betty has incredible skin. Instead of being covered in scales like other fish, she is covered in tiny teeth called dermal denticles. These reduce drag in the water so she can swim faster with ease.
With such huge fins, Bowmouth Guitarfish are particularly targeted by the Shark finning industry.
Did you know?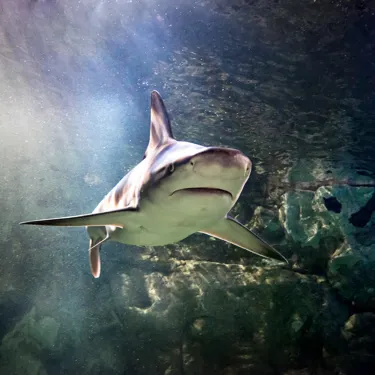 Sharks vs Rays
Their closest relative is the Shark; Rays evolved from Sharks around 150 million years ago!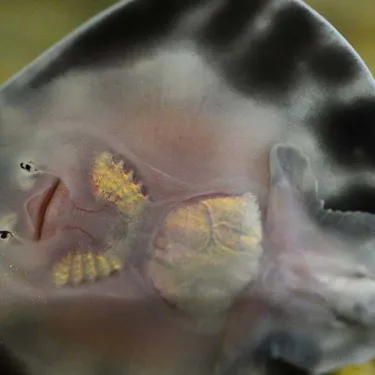 Just a baby!
When they are born, baby rays are so small and see-through that their gills and stomach are visible through their skin!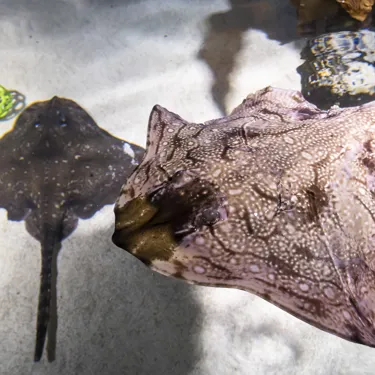 Camouflage time!
Undulate Rays have beautiful mottled colouring which helps them to hide on the seabed.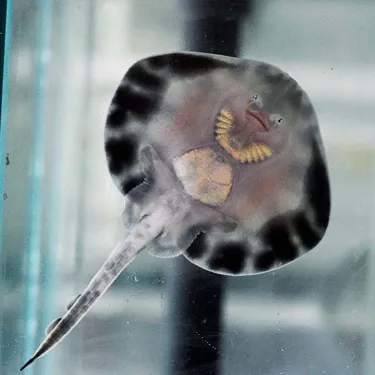 Bone free!
Just like sharks, rays don't have a bony skeleton. Instead, their skeleton is made of cartilage (like out ears!) This makes them lighter so it is easier to glide through the ocean.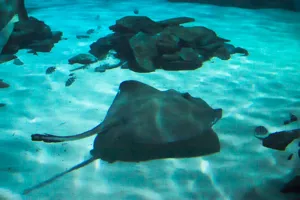 Southern Stingrays
Stingrays get their name from the stinging barb at the base of their tail. When they feel threatened Stingrays can whip up their tail to puncture their pursuer with their spiny, venomous barb. Once they have done this it takes a while for a new one to grow back, so they only use it as a last resort!
In our Open Oceans zone you'll see huge Southern Stingrays! These large predators spray water from their mouth and flap their wings to disturb the sandy bottom and reveal hidden prey. They also like to bury themselves in the sand when they have to hide from their own predators such as Great Hammerhead Sharks and Killer Whales.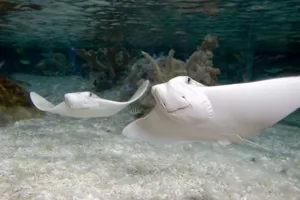 Cownose Rays
The cownose ray belongs to the diurnal rays and lives in large sociable groups with often hundreds of their species.
The cownose ray lives in tropical and subtropical waters of the Atlantic and Indo-Pacific oceans. It feels particularly comfortable on sandy and muddy bottoms in bays, estuaries or coral reefs.
You can spot these adorable smiley rays in our Open Oceans zone!
Did you know?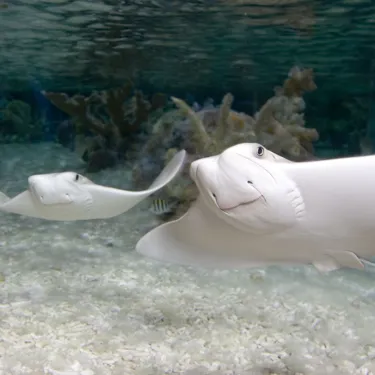 Electric!
Electric rays are able to stun their prey and protect themselves from predators by producing a strong electric current. Pretty cool, huh?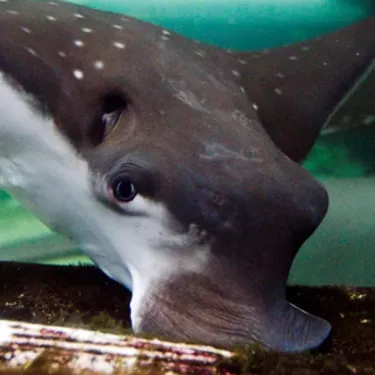 Ray teeth
Lots of ray species have jaw teeth that allow them to crush mollusks such as clams, oysters, and mussels.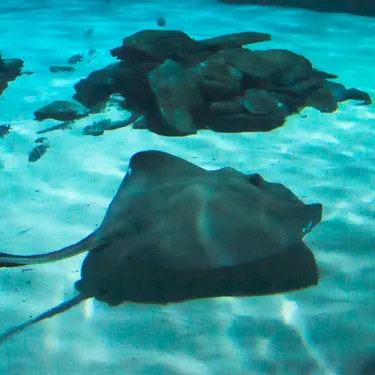 Ouch!
Some stingrays venom is deadly to humans!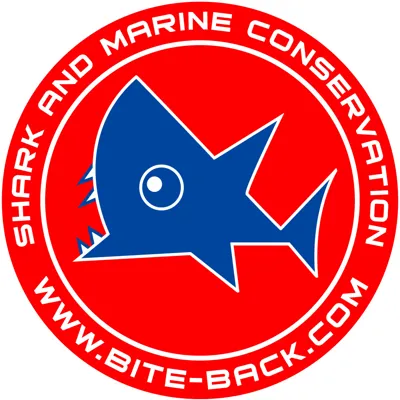 Bite-Back Shark & Marine Conservation
SEA LIFE London is proud to sponsor Bite-Back Shark & Marine Conservation and support their fight to make the UK shark-fin free!
Standard Ticket
Online from
£24.50
Per adult
Entry at your chosen 15-minute time slot
Discover species from around the world in 14 themed zones and interact with them at with our public feeding, diving displays and touch pools

Book early & save!

Skip the Gate Pricing: Tickets purchased online in advance are consistently cheaper than walk-up rates, so you can enjoy more for less.

Guaranteed admission on your chosen date
Reschedule for free
Instant ticket (show the ticket on your Mobile device or as a printout)

| | | | |
| --- | --- | --- | --- |
| Ticket Type | Off Peak Weekdays | Peak | On the day / Walk-up |
| Adult | From £24.50 | From £28 | £40 |

Please note online ticket prices vary depending on available capacity and prices may fluctuate during periods of high demand.

During winter our penguins sleep earlier, so if you are visiting in the late afternoon, please note that the Polar Adventure zone may be dimly lit
Anytime Entry Ticket
Online from
£32.50
Per adult
Arrive at any time on the day of your choice
Discover over 500 species from every part of the world in 14 themed zones over 3 floors
Reschedule for free if your plans change*
During winter our penguins sleep earlier, so if you are visiting in the late afternoon, please note that the Polar Adventure zone may be dimly lit
Standard Ticket + VR Experience
Online from
£28.50
Per adult
Standard entry at your chosen time slot
Be transported to the depths of the ocean in this exhilarating, state of the art virtual reality experience
Reschedule for free if your plans change*
During winter our penguins sleep earlier, so if you are visiting in the late afternoon, please note that the Polar Adventure zone may be dimly lit