An egg-cellent Easter treat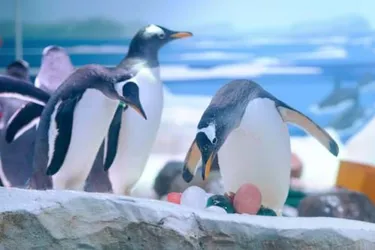 Icy Easter treats for our Gentoo penguins
There were Easter surprises aplenty at the SEA LIFE London Aquarium today when the resident colony of Gentoo penguins were served up giant handmade Easter eggs and news of the first penguin egg of mating season was confirmed.
The brightly coloured treats, crafted from ice and packed full of their favourite sprats and herring, will be served up to the group in special Easter egg feeds all week - and the team is expecting some more Gentoo eggs in the next few days too.
"Our penguins are very playful and love their grub," commented aquarist Hayley Clark. "These eggs are a great food treat but also excellent enrichment for the penguins too. They will have enormous fun getting the fishy goodies out of the eggs and guests will be able to watch them doing it every day at special Easter egg feeds. As for our real egg, it's likely to be the first of two for couple Arnie and Luna, and then it's a waiting game to see if they are viable."
There is a 35-40 day incubation period before any chicks are born and the team will now be keeping a watchful eye on the couple - as well as looking out for more eggs. It is common for Gentoos to lay two in a matter of days and, as well as Arnie and Luna, two other couples are actively mating.
Visitors to the attraction can see the penguins being fed their seasonal icy treats every day at 12pm (excluding Wednesdays) and 3pm, from 14th - 21st April. During mating season the group pair up in special nests made from pebbles so guests will also have the opportunity to observe their courting rituals close up - and maybe spot a real Gentoo egg or two!