Chill out with gentoo penguins this Christmas
Thursday 3rd November 2016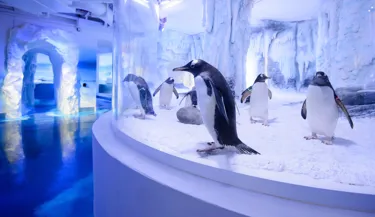 This December is penguin month at the SEA LIFE London Aquarium, and we'll be spreading the Christmas joy at our Penguin Point, with a series of 'very cool' one off experiences.
Our colony of Gentoo penguins will be joined by new friends as we welcome five new Gentoo penguins this December. Visitors will be able to get up close and p-p-personal with these fascinating birds, with floor-to-ceiling windows and special 'pop- up' viewing dome.
Our penguins also have an important job to do this Christmas; during the festive period visitors will be have the opportunity to send Father Christmas a letter via our Penguin Post. Thanks to our new snowy 'South Pole' (which has sprung up in Penguin Point area) it connects directly to Father Christmases North Pole - making sure that everyone gets a letter to Santa this season.
Other penguin festivities will include 'Sing-to the Gentoo' carol services with our special choir, where you can come and hear a series of Christmas carols in Penguin Point. Listen to wintery carols, as the bird settle down for their own 'Silent Night' or maybe even hear 'Jingle Bells'.
As well as the Penguin Post and carols, visitors throughout December will see daily surprise events including penguin bubbles, ice sculptures and even what a penguin Christmas dinner looks like.
Penguin Point, which opened earlier this year, offers visitors a state-of-the-art viewing and learning experience complete with a colony of inquisitive Gentoo penguins.All these 'cool' encounters are included in the entrance price to the aquarium and visitors can also enjoy getting up close to over 10,000 colourful aquatic inhabitants representing over 600 species in 65 immersive displays.