Crusty creatures of the deep star in new special exhibition
Saturday 15th February 2014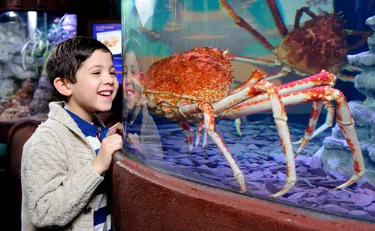 An invasion of the crustacean kind is expected at the SEA LIFE London Aquarium in February 2014 as a new exhibition featuring some stunning species of crabs opens. CLAWS will bring together a spectacular collection of the "B-movie monsters" of the marine world from the gigantic Japanese Spider crab (which can grow to 12 feet long) to the humble blue lobster.
Built like miniature armoured tanks, these powerful crusty creatures of the deep are natural warriors and guests can inspect them at close quarters in a newly themed area featuring quirky displays designed to resemble giant crabs.
A giant mechanical claw shows the inner workings of a crab's claw and interactive features enable guests to feel the hardness of their shells and the sharpness of the serrations on their claws. Plus a crawl-through tunnel display allows visitors to get right underneath some of these alien like animals and examine them from every angle. Add in fun and informative graphics and a 3D model and CLAWS adds up to a monster new addition to one of London's most popular attractions.
And there's also a whole aquarium to discover with thousands of sea creatures from rays to rare Green Sea turtles, seven species of stunning shark in the Shark Reef Encounter display and a playful family of Gentoo penguins in the chilly Ice Adventure area.
Situated on the banks of the River Thames in County Hall, the SEA LIFE London Aquarium is open seven days a week with great value family tickets; additional charges apply to Snorkel with Sharks and Behind the Scenes. CLAWS is included in main entry price.