Love is OH-FISH-IALLY in the air
Tuesday 14th February 2023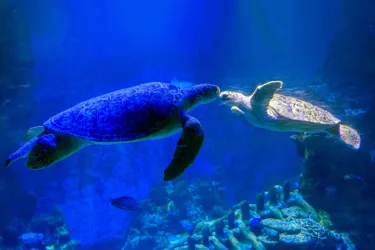 Well, it's oh-fish-ial - love has swept through the London Aquarium, from a romantic pair of seahorses dancing for a mate or purely platonic wholesome love as two baby rays playfully swim after each other.
Circling each other and holding each other's tails, seahorses have begun their love story by performing a charming dance together in hopes of attracting a mate. While the Seahorses are rumba'in up the roe-mance with their elegant dances, other creatures at the aquarium feel the love in platonic ways. This is certainly the case for two green sea turtles, Boris and Dougie, who love to chase after and play with each other in their big beautiful ocean tank.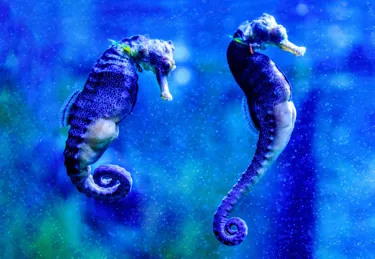 Don't forget those terrapins because they sure know how to have a terribly good time as they love to relax and bask in the sun together and often stack on top of each other to 'hang out' at the best spots.
Similarly, two adorably cow nose rays who were only born a few hours apart from the same mum, swim as a loving sibling pair and make all the aquarists swoon in awe.
These creatures showcase all the wonderful ways to celebrate love on Valentine's Day, whether it's as romantic partners, as best friends, or within your own family as siblings.
As Sebastian, the crab would say "that's why it's hotter under the water!"
Joe Feasey-Kemp, Display Supervisor at SEA LIFE London Aquarium, said: "Everyone is feeling inspired by the love seen between the creatures here at Sea Life London Aquarium as we have seen all the different ways love is felt between our creatures.
 Seeing our elegant seahorses charm their lovers reminds us of the fun spirit of young love and even cuter is our adorable tiny rays swimming as a pair who leave us in awe in their purely platonic, but equally as beautiful, love!"
Standard Ticket
Online from
£24.50
Per adult
Entry at your chosen 15-minute time slot
Discover species from around the world in 14 themed zones and interact with them at with our public feeding, diving displays and touch pools

Plan ahead and book tickets online

Save time and money by booking your attraction tickets in advance

Enjoy great savings versus on the day/peak times
Guaranteed admission on your chosen date
Reschedule for free
Instant ticket (show the ticket on your Mobile device or as a printout)