Mauve Stinger jellyfish arrive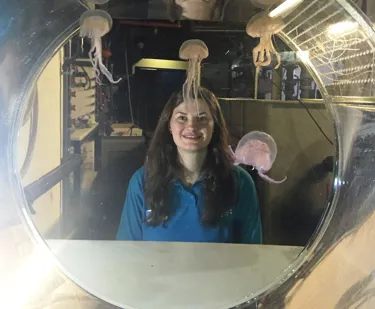 The most toxic jellyfish from Mediterranean waters today arrived at the SEA LIFE London Aquarium, ready to make waves as the first ever to be on display in the UK. Measuring in at around 5cm across, these juvenile Pelagia Noctiluca jellyfish, or most commonly known as Mauve Stingers, are widely known for their searing sting and can be clearly identified by their unusual purple colouring.
Although this group of sixteen Mauve Stingers will be a UK first for an aquarium, it will not be the first time the British public will have spotted the fascinating creatures. Mauve Stingers were at the centre of a media storm last year when thousands of jellyfish invaded British waters and washed up on British coasts.


Ruth Chamberlain, Lead Aquarist at SEA LIFE London Aquarium, commented: "Mauve Stinger jellyfish are very toxic creatures - however they are also very captivating and can appear pink, purple, blue and even magenta in colour, and can even produce their own bioluminescent light in the dark. This is a fantastic opportunity for the British public to get up close to the toxic Mauve Stinger, and learn more about these creatures and their behaviour."


Visitors to the SEA LIFE London Aquarium can see the plethora of Mauve Stinger jellyfish from today in the main attraction.