Ocean invaders: enter the world of jellyfish
Thursday 3rd November 2016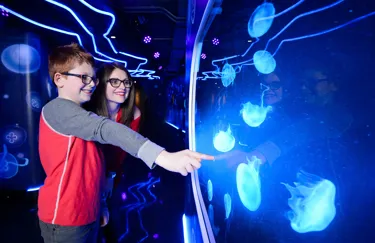 Visitors are invited to immerse themselves in the fascinating world of the jellyfish, with a new sensory experience that will enlighten you to this mysterious, fascinating and beautiful species.
As you enter into of the world of jellies, you will move through three different interactive spaces. In the first area 'Discover' - you'll explore the world of the jellyfish and find out about their life cycle and incredible survival skills. Continue your gelatinous journey in the 'Understand' area, where you'll get to know the various species, the most dangerous, and the most spectacular and have the chance to create your own digital swarm while testing the strength of the jellyfish sting. Finally, enter the 'Wow' area where you'll witness a jaw dropping spectacular and be completely surrounded by the jellyfish invasion.
Whether you're a 'Jellyfish-ianado' or just keen to learn all about their wonderful wobbly world, this new experience will take you on a journey of discovery, exploration and delight into one of the ocean's most elusive and intriguing creatures. The significant new investment from SEA LIFE London makes Ocean Invaders the largest jellyfish facility in the UK.
Ocean Invaders: Enter the world of the jellyfish is a permanent addition to the SEA LIFE London Aquarium and included in the entrance price. Visitors can also enjoy getting up close to over 10,000 colourful aquatic inhabitants, representing over 600 species in 65 immersive displays.