Poison dart frog baby born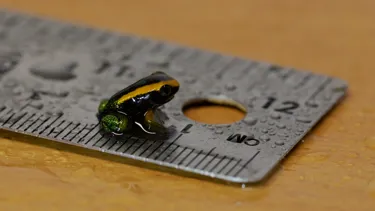 First ever tiny poison dart frog born at SEA LIFE London Aquarium
Aquarists at the SEA LIFE London Aquarium are sizing up a brightly coloured miniature new addition to their Poison Dart frog family – the first to be born at the aquarium following a successful breeding programme.
"Poison Dart frogs are threatened in the wild, which makes it all the more exciting that our breeding programme has been successful, and our tiny new frog is going from strength to strength every day," commented Displays Supervisor, Graham Banton.
"This new addition represents the latest in a series of successes for us at the SEA LIFE London Aquarium, including hundreds of baby moon jellyfish and tiny seahorses, plus the recent new arrival of our first Gentoo penguin chick."
The diminutive frog should be big enough soon to join the rest of the group at the South Bank attraction, where visitors will be able to spot him and the rest of the group in the rainforest zone, and learn about the conservation issues leading to the species declining numbers.
Picture by Matt Haworth 2014