Pop-up jellyfish display is a load of rubbish!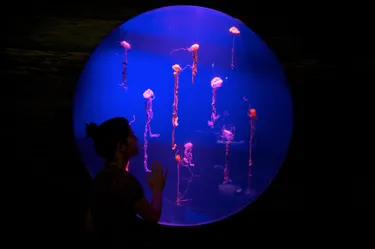 The SEA LIFE London Aquarium has launched a temporary new display of serenely floating jellyfish – each made entirely of used plastic bags – in time for World Turtle Day on Friday 23rd May. The unusual display has been created to highlight the dangers facing turtles and other marine life from plastic bag pollution, which is estimated to kill millions of marine animals annually.
In the wild, turtles often mistake floating plastic bags for jellyfish and swallow them, getting them trapped in their stomachs, which then prevents them from swallowing food. The jellyfish display takeover will last until Monday 26th May, and is situated opposite the magnificent million litre Ocean Reef display - home to the attraction's own resident rare Green Sea turtles Boris and Phoenix.
Guests visiting the new display on World Turtle Day (23rd May) can also experience the 'Turtle Workshop', with interactive talks about the dangers of plastic bag pollution to turtles and other marine life, including props and practical advice on how we can all help, plus plenty of opportunities to ask the knowledgeable aquarium team questions.