Scout Sleep-in
Thursday 12th September 2013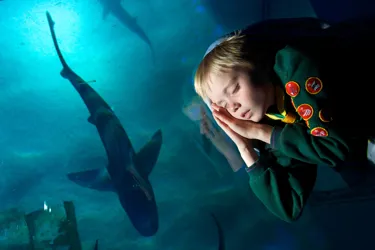 Scouts stage 'sleep-in' for shark conservation
Each year, 100 million sharks are slaughtered for their fins – a rate at which they simply cannot survive – and shark charity Bite Back estimate that unless action is taken, 20 species could be extinct by 2017. So last night, a courageous group of 55 cub scouts – all just 8-10 years old – took a stand and staged a 'sleep-in' at the SEA LIFE London Aquarium, sleeping with 15 sharks nestled sardine-like in the dark shadows of the massive Shark Reef Encounter display.
The plucky youngsters had three simple aims: to raise awareness for the plight of millions of sharks, to raise much needed funds for essential conservation work to end the shark finning trade and earn their Conservation Badge into the bargain. The activity was part of an on-going public engagement programme run by the experts at the aquarium designed to put the record straight about the much-maligned species.
"We are on a mission to challenge perceptions of sharks as the bogeymonsters of the ocean and make people aware of the terrible dangers they face in the wild," explained SEA LIFE London Aquarium Education Officer, Jenny Hickman. "The fact is that humans are more of a threat to sharks than sharks are to humans, and if action isn't taken we stand to lose some of the oldest and most spectacular creatures in the sea."
As well as snuggling down with the sharks, the group was treated to a tour of the aquarium with talks on key conservation issues and enjoyed a special screening of the animated film 'Shark Tale'. "The children have had an incredible experience and we're delighted to have been involved," commented Archaela Carole Leonnard. "The children have well and truly earned their conservation badges, raised funds for Bite Back and this activity has given us an amazing insight into a global conservation issue of huge scale. We're proud that the children have taken a stand and done something to help - plus they've had a lot of fun!"