SEA LIFE London Aquarium partners with BBC Earth to create a multi-sensory Polar experience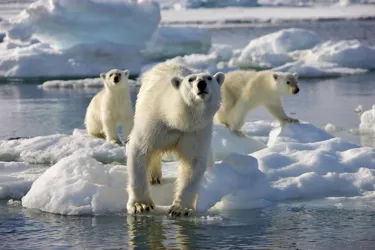 SEA LIFE London Aquarium will be inviting visitors to experience the magical polar ice worlds of BBC Earth's epic natural history series: Frozen Planet in a new permanent attraction opening for Easter 2016.
Visitors will follow in the footsteps of the BBC's intrepid film crews, encountering a polar bear and her cubs and killer whales, as the incredible icy wilderness featured in the series, comes to life using breathtaking augmented reality.
Frozen Planet: Face to Face uses the latest entertainment technology to take visitors above and beneath the ice through spectacular polar landscapes in a re-voiced interactive walk through experience. Guests will be brought face to face with polar bears and orcas for a magical journey as they interact with some of the planet's most extraordinary creatures.
Cutting edge scent, sound and visual effects are used to immerse visitors in the frozen worlds of their polar expedition. Each interactive stage of their journey will reveal something new: chilly air prickling their skin as arctic frost grows before their eyes, a deadly brine icicle descending to the sea bed, a gigantic orca whale rising from the waves, polar bears roaming the ice and an astonishing display of Northern Lights flickering overhead.
"We want to create an unforgettable Frozen Planet experience for our visitors," commentedToby Forer, General Manager of SEA LIFE London Aquarium. "BBC Earth's spectacular film footage has been brought to life using advanced technology to create a unique multi-sensory experience that will bring families closer to our planets magical polar ice worlds than they ever would have thought possible."
Mat Way, Commercial Director, Live Entertainment at BBC Worldwide adds, "We are delighted to partner with SEA LIFE on Frozen Planet: Face to Face. It's an incredible concept and perfect for an iconic series such as BBC Earth's Frozen Planet. Our team is looking forward to working with SEA LIFE to bring the dramatic Polar Regions and its amazing animals to life."
The Frozen Planet: Face to Face experience will be a permanent addition to the SEA LIFE London Aquarium and included in the entrance price. Visitors can also enjoy getting up close to over 6000 colourful aquatic inhabitants representing over 500 species in 65 immersive displays.