Sustainable Friday fish supper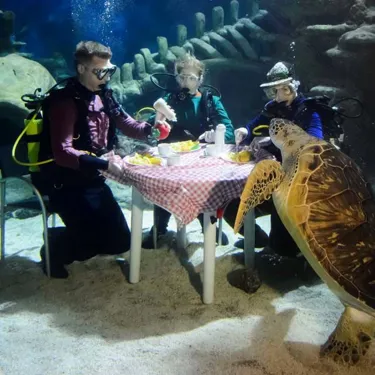 Divers at the SEA LIFE London Aquarium urge fish lovers make this Friday's fish supper sustainable!
Divers at the SEA LIFE London Aquarium took to the depths of the million litre Ocean Display today to 'tuck in' to a traditional Friday fish supper – surrounded by dozens of colourful fish, turtles and sharks – to kick off a campaign urging people to ensure the fish they eat this Friday (and every day) is sustainable.
The campaign is a joint scheme between the aquarium and Sustainable Fish Cities, an initiative conceived and supported by not-for-profit organisations with the aim of removing endangered and unsustainable fish from menus in the UK, and creating the world's first completely sustainable fish cities.
Health conscious Britons are eating more fish than ever before with fish sales up 25% since 2006 but much of the fish we consume is being caught by destructive, unsustainable methods meaning we are at serious risk of losing some species from our seas forever - including cod and Bluefin tuna (with 90% of their stocks already gone).
"We're not suggesting people stop eating fish - Friday's traditional 'Fish Supper' is a British institution, and a delicious one at that!" commented Rebecca Carter, Education and Conservation Manager at the SEA LIFE London Aquarium. "But to keep it, we need to be mindful of which species are sustainable and which aren't, and which restaurants and shops are working with organisations like Sustainable Fish Cities to ensure the stock they sell is sustainably sourced. If we don't act now, and continue to eat fish that is being destructively sourced despite the warnings, then it'll be too late - we risk irreparably damaging entire marine ecosystems."
The latest organisation to join the Sustainable Fish Cities campaign is Brakes, which is the country's largest wholesale food supplier to the restaurant sector, selling enough fish fingers each year to stretch, end-to-end, across the Atlantic Ocean. Brakes has already removed endangered species, as advised by leading marine charity the Marine Conservation Society and will sell more products carrying the Marine Stewardship Council's sustainability label than any other supplier.
Ruth Westcott, co-ordinator of Sustainable Fish Cities agrees. "'Our main message is that there is still time to 'turn the tide'. Fish stocks can recover if we give them a chance, and Sustainable Fish Cities is all about asking consumers, businesses, and everyone that buys and sells fish to make sustainable choices. Already fourteen UK towns and cities – all of them members of the Sustainable Food Cities network and with a collective population of over 13 million – are working to become Sustainable Fish Cities, and thanks to the support of Brakes and the SEA LIFE London Aquarium we can bring the sustainable fish message to many thousands more people".
Adam Swan, Category Director at Brakes, says: 'We are delighted to get on board with this campaign. It is vital that we all do our bit to protect our precious marine life, and by switching to fully sustainable options we will be bringing sustainable fish to thousands of schools, workplaces and restaurants across the country. We hope our pledge will encourage our customers and other suppliers to take action too, so that we can all enjoy fish on a Friday for many generations to come.'
Visitors to the SEA LIFE London Aquarium from 23-31 May can learn all about which fish are sustainable, which aren't and what they can do to help those that are facing being wiped out during Sustainable Fish Week.