Fun Things To Do in Sydney in Winter with Kids
Wednesday 19th June 2019
Sydney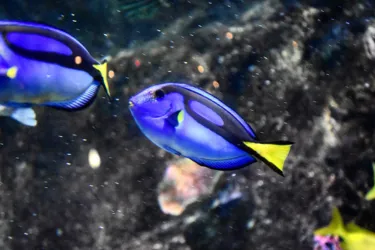 Yes, it's getting cold, but it's not all about fireplaces and hot choco's. From kite flying to whale watching, there are lots of fun things to do in Sydney in winter with the kids.
Botanical Beauty
In the heart of the city is the Royal Botanic Garden. Part of this gorgeous Sydney spot is a truly unique venue – The Calyx; a stunning glasshouse filled with beautiful displays, including the biggest green wall in the southern hemisphere! Inside, there are activities for all-ages, founded on science and horticulture, with interactive elements to engage the kids.
Encounter Majestic Giants
How lucky are we? Between May and November, more than 30,000 whales migrate from Antarctica all the way to the Pacific along the NSW coast. Can you believe they traverse more than 10,000km?
Who can spot a whale first? You'll most likely see Humpback Whales, and if you're lucky, perhaps Killer Whales and Blue Whales too. Catch them singing and swimming at prime whale watching spot Cape Solander in Kamay, Botany Bay National Park. Locals also look out from the famous clifftop trails between Bondi and Coogee, and along the Federation Cliff Walk. Bring hearty picnic food and organise active games to stay warm.
For more Whale watching information, visit Sydney's official tourism site here.
Let's Go Fly a Kite
You have two options: one, do it the easy way and buy a kite or two, if you're feeling brave, make your own kite. Then, when the winter winds are high, grab your kite, kit yourself up for some bitey cold weather and head out somewhere with no high-flying obstacles, like a beach or a big oval. Kite flying is a timeless pastime for the whole family, and the best thing is – all you need is a breath of wind!
Get into the Wintry Spirit
There's a sub-Antarctic penguin expedition in the heart of Sydney CBD. Yes, you read that right – SEA LIFE Sydney Aquarium will suit you up in snow gear and take you on an exhilarating 45-minute expedition on the ice. With your Penguin Passport, befriend our cheeky penguins who'll be waddling, hopping, slipping, and sliding right in front of you. Warning: you'll fall in love! Plus, our passionate keepers will share a rare behind-the-scenes look at how SEA LIFE Sydney Aquarium takes care of these beautiful animals. You'll also learn how this state-of-the-art exhibit maintains its sub-zero temperatures. This is the perfect frosty adventure for animal lovers.
Where Life is the Bubbles
What's more, your Penguin Passport ticket gives you all-day access to the rest of the aquarium. Curious minds will be entertained and educated for hours. Good thing it's warmer inside and completely undercover. Can you be squirm-less while you touch slimy sea slugs at the Discovery Rockpool? Step back in time and learn about evolution at Jurassic Seas. With more exciting habitat zones, from Shark Valley to Dugong Island, there's so much to see.
Tip: To make the most of your trip to the aquarium, note our feed and talk times so you can meet all your favourite sea creatures on the day.