The Best Rainy Day Kids Activity in Sydney
Thursday 31st May 2018
Sydney, Family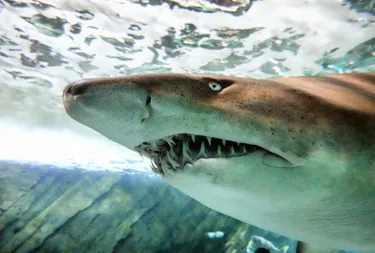 Looking for a rainy day kids activity in Sydney that will curb the boredom AND benefit their brains? Aquariums are not only magically fun, they're also a fantastic educational experience, that's a win-win! There is so much to do and see at SEA LIFE Sydney that will stimulate your little ones both physically and mentally, you're sure to have a fun-packed family day that will create lasting, precious, family memories.
No matter what type of learner your child is, at SEA LIFE Sydney Aquarium, there are all kinds of fun and creative ways to keep your child's mind active, in a way that they won't even realise they are learning. Here's how...
Visual Learners
If your child is a visual learner, a feast for the eyes awaits at SEA LIFE Sydney. They will be drawn in by the vibrant colours of the coral reef fish and mesmorised by the giant rays swimming over their heads as they walk through the glass tunnel in Shark Valley. SEA LIFE Sydney Aquarium is also filled to the brim with highly visual, eye-catching signs that help visitors to learn all they can about our animals' behaviours, ecosystems and unique stories.
Having your child read the animals descriptions and stories out aloud is also great reading skills practice, or have them keep a journal for your fun family day out to also get some writing skills practice in. 
Auditory Learners
There's many opportunities for auditory learners to soak up new information and skills at SEA LIFE Sydney. Ever wanted to know what dugongs eat for breakfast, lunch and dinner? Or why the ominous looking Grey Nurse Shark is often referred to as the Labrador of the sea? We have educational feed and talk times scheduled throughout the day with our friendly and knowledgeable aquarium staff. 
At various spots throughout SEA LIFE Sydney Aquarium, you can also listen to the sounds of the animals and soothing background music that will help to keep your little ones feeling relaxed. A far cry from a classroom which can sometimes be stressful - as we said they won't even realise they're learning!
Tactile Learners
If your child is a tactile learner, they will love the hands-on educational displays, particularly our 'Touch & Feel' Discovery Rockpool. There's not many places where you can hold shark eggs, starfish and sea cucumbers - we're sure it will be the highlight of their day!
Inspire a Nature-lover
Learning about and being so close to the animals will also help your kid's develop an appreciation for wildlife and the environment. Sure, you can read about animals on the internet and watch them on TV, but there is no comparison to seeing that living creature right in front of your eyes. You will love seeing your child "WOW!" as a shark swims above them or when they see a penguin whizzing through the water. Helping kids develop a respect for nature and caring for our environment is something we love most about our aquarium.
So what are you waiting for? You can explore our underwater world at SEA LIFE Sydney whilst staying completely dry on a rainy Sydney day. An underwater adventure is awaiting you and your family!