Our Journey
Merlin Entertainments is working with Reconciliation Australia on the Reconciliation Action Plan (RAP) program. Since 2006, RAP's have provided a framework for organisations to leverage their structures and diverse spheres of influence to support the national reconciliation movement.
We are committed to delivering this Reconciliation Action Plan's actions and deliverables outlined in the plan and understand the importance and significance of the plan to our communities and teams cross Australia.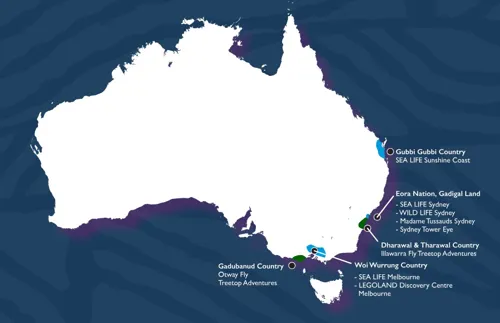 Watch Introduction Video
Reconciliation Action Plan 2022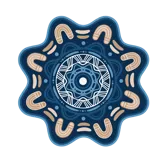 Our RAP will support our reconciliation journey by helping us build strong relationships with local Aboriginal & Torres Strait Islander communities. Through engagement and consultation, we will learn about the importance of Land, Sea, and Country. This will create opportunities to collaborate with these communities within our organization and wider networks, as we work towards our 'All Together' Strategy. Our goal is to achieve balance and representation from all cultures, genders, and backgrounds in our business.
Find out more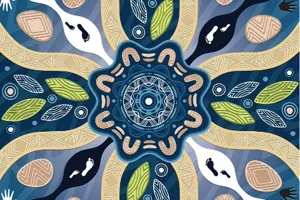 Dixon Patten
Bitja (Dixon Patten) is a proud Gunnai, Gunditjmara, Dhudhuroa and Yorta Yorta man with blood connection to Wiradjuri, Yuin, Wemba Wemba, Wadi Wadi, Monaro and Djab Wurrung. He is an artist, designer, mentor, influencer and a strong community advocate.
Bitja's artistic practice is informed through a strong cultural value that his family and community have imprinted into his mind, heart, and spirit and the narratives often delve deep into familial history, often in celebration but also in search of healing.
Dixon Patten is the Director and Lead Artist for Bayila Creative; an Aboriginal-owned art and graphic design business and was founded in Melbourne (Narrm) and was established with the intention of providing a platform to bring forth Indigenous culture, art and stories to the corporate world, and to interpret the Aboriginal community's creative needs in an organic way.
The Artwork
Aboriginal and Torres Strait Islander people live in harmony with the land mind the environments they live in are central to their dreaming stories, song lines, knowledge and well-being.

The central motif represents a meeting place where Merlin staff and the community come together. The 'u' shape symbols represent people sitting; sharing and learning about Aboriginal and Torres Strait Islander culture(s). The ripples depict the positive influence that takes place when we connect with people and our environments, we care more, we share more and we grow. Growth is depicted by the gum leaves; which are also used in smoking and cleansing ceremonies.
The pathways with feet depict Aboriginal and Torres Strait Islander and non- Aboriginal and
Torres Strait Islander peoples walking their own paths, who are coming together in Reconciliation. The other pathways represent our diversity as people, that we come from all backgrounds and experiences, but connect through our shared history and calling Australia home. They also represent opportunities; which come with working together. The larger feet and smaller feet represent eldership and the role that our elders have in taking the lead in teaching and guiding. The stones represent healing and well-being
Indigenous Educational Resource
SEA LIFE Sydney Aquarium are thrilled to announce the release of our Indigenous Booklets, which are packed with fascinating information about Aboriginal culture. To make this possible, we teamed up with Wingura, a company based in Sydney that specializes in creating educational content about Aboriginal culture. The team at Wingaru went above and beyond to ensure that the communities whose land the attractions are located on were involved in the creation process. This way, the local communities have control over how their culture is shared, and they can continue to work in a way that is respectful and culturally safe. We're incredibly proud to be part of this initiative and we can't wait for you to get your hands on these amazing booklets!
Check it out