Ocean Youth
Building tomorrow's leaders and change-makers to conserve and protect our oceans
Ocean Youth
Run by the Kelly Tarlton's Marine Wildlife Trust and supported by SEA LIFE Kelly Tarlton's, is inspiring participants to take a first-hand approach to how they can reduce the impact on our marine environment by developing their own conservation initiatives into reality.
Ocean Youth is a capacity building programme for teenagers with a keen interest in the sustainability of our oceans. It is a combination of hands-on excursions, workshops and volunteer opportunities that build skills, knowledge and confidence. The overall goal is to enhance a participants' knowledge of ocean protection and sustainability and give them the opportunity to develop tangible outcomes for their own conservation initiatives.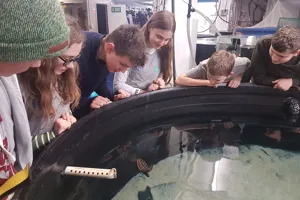 Participants ages from 13 to 18 years old, with 2019 being the first year the programme has run in New Zealand.
The programme is delivered through interactive and immersive skill building activities designed around the principles of conservation and sustainability of our ocean as a precious resource. Embedded at all levels is thinking around decision making now and into the future and implementing solutions to some of the big, hairy issues our oceans face.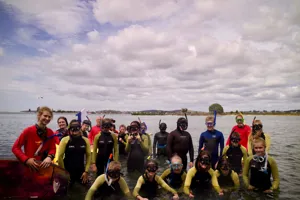 The Ocean Youth programme is engaging with young adults who are driven to achieve outcomes that tackle these issues head on and produce tangible outcomes. It creates the opportunity and space for our youth to collaborate on projects that give focus to marine conservation and animal care while fostering a 'solutionary' mindset. A mindset that creates a deeper sense of their role in creating change that is sustainable, and implementing positive solutions to address these issues within their own communities.  
"Our members understand that their generation is inheriting a planet that is less healthy and in greater need of intervention than that of those prior. They carry no baggage or vested interests with respect to solutions and what's possible. Their only obstacle is that they don't feel they have the confidence to positively influence others or that their voice is heard. And that's where Ocean Youth makes the deepest impact." 
An output of the programme is developing valuable transferable skills across the areas of marketing, communication, public speaking and project planning in becoming an 'Oceanpreneur' with the programme providing support in developing commercially viable solutions which they work on throughout the year.  
This hands-on program gets youth out in nature, experiencing the ocean, and learning new skills that will start them on their conservation journey. Snorkeling, citizen science, work experience at SEA LIFE Kelly Tarlton's, and much more are included in this not-for-profit program.
Email learn@kellytarltons.co.nz or register your interest for the next intake here.
Some of the activities included in the past programmes